Everything You Need to Know About Google My Business Call History and Why You SHOULDN'T Turn It On
In May 2021, Google released a "call history" feature within its Google My Business (GMB) platform. It's built to help business owners see and respond to missed calls coming from Google Search and Maps.

Call history is one of Google's newer GMB features — part of a larger initiative by Google to expand business owners' use of the platform, but just because Google unveiled a new feature doesn't necessarily mean you should use it for your business.
In this blog, we'll answer the question "Should you turn on call history in Google My Business" and dive into:
What is GMB's call history feature
How call history works on Google My Business
How long Google keeps your business' call history for
How to see your call history in your GMB profile
Pros and cons of GMB's call history feature
How to track calls properly from Google Search and Maps without using GMB's call history feature
What Is Call History in Google My Business?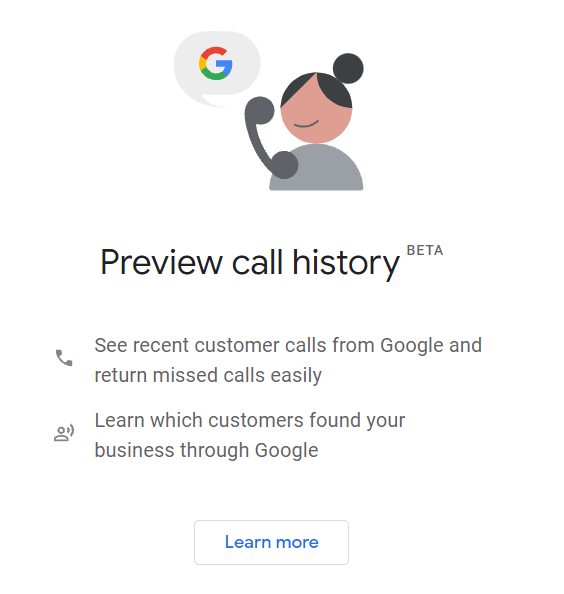 If you've recently logged into Google My Business and clicked the "Calls" tab in your dashboard, you've likely seen the image above asking you to preview (and then turn on) call history.
According to Google, call history in Google My Business allows you to:
Keep track of phone calls from customers on Google Search and Maps
Respond to missed calls and stay engaged with customers
Keep your calls from Search and Maps in a single place
Essentially, it's a call log, like what you'd see on your iPhone or Android device, allowing you to see:
What phone number called you
When the phone number called you
If the call was answered or missed
How Does Call History Work on Google My Business?
Call history, although released in May 2021, is still a relatively new Google My Business feature. Only a select group of U.S. businesses are eligible to turn on the feature.
Here's how call history in Google My Business works for eligible businesses who turn it on:
Customer clicks the "Call" button on your GMB profile (or in Maps or the Local Pack)
Their call shows up in the "Calls" tab in Google My Business
From here, business owners can find:
Recent calls
Missed calls
Answered calls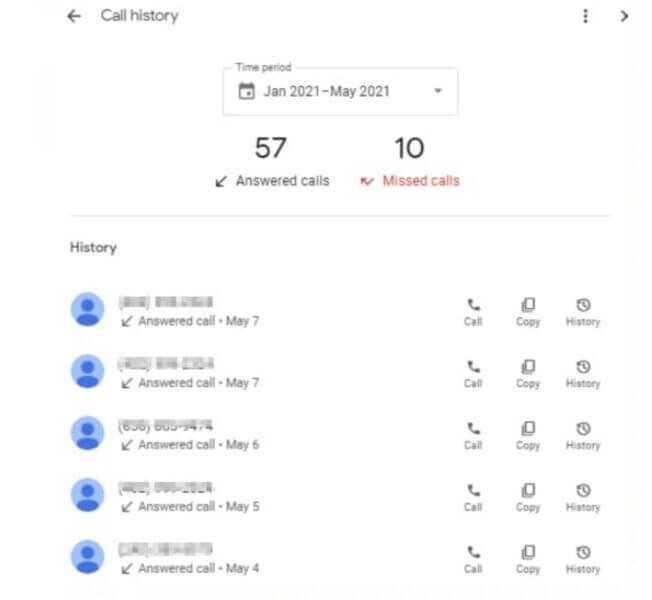 Image Source: Search Engine Roundtable
Only calls made by users clicking the "call" button on your Google My Business listing will be recorded in call history: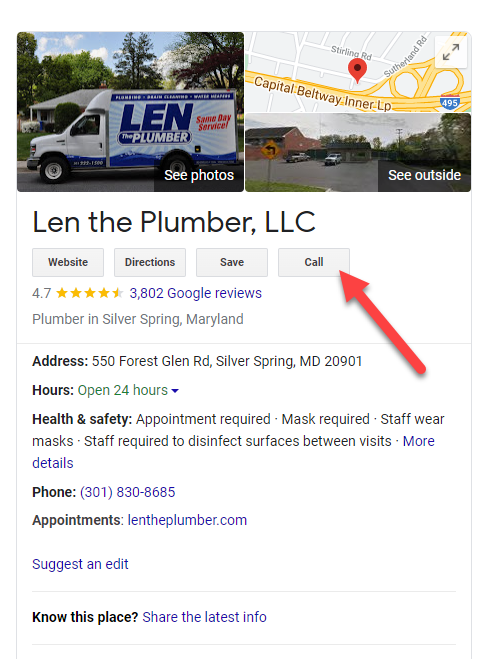 Do Customers Call My Office Directly When Call History is Turned On?
When call history is turned on, customers do not call your office directly.
Instead, they connect with you through a Google forwarding number instead of your office number listed on your GMB profile.
At the start of the call, business owners or customer service representatives who answer the call will hear an automated message from Google notifying them that this person is calling from Google.
The message says, "Call from Google" before connecting you with the prospective customer.
What Is a Google Forwarding Number?
Think of a Google forwarding number like a middleman between you and the customer. Let's say your office number is 555-555-5555.
And let's pretend Google's forwarding number is 777-777-7777 — different from the one listed on your GMB profile.
So, when a customer clicks the "call" button on your profile, Google redirects the call to hit their tracked 777 number, and then routes the call to your 555 number listed on Google My Business:
User Clicks the Call Button on GMB –> Google's Tracked Line –> Your Office Line "Call from Google"
This redirection allows Google to capture the customers' call data and log it in the call history section of your Google My Business profile.
How Long Does Google Keep Call History For?
Google My Business keeps all calls in call history for 45 days. After the 45-day timeline expires, the call is no longer available.
How to See Your Call History in Your GMB Profile
To see your call history in your GMB profile, click on the "Calls" tab after opting in to the service.
Can You Track Texts in Call History?
No, you cannot track text messages in call history. According to Google, call history only tracks phone calls, although you can still text customers via GMB with the messaging feature in the GMB app.
Pros and Cons of GMB Call History
There are several pros and cons to using Google My Business' call history feature. However, the cons far outweigh the pros:
Pros
45-day call log – For small businesses operating without a team of CSRs (customer service representatives) or a CRM (customer relationship management) software to track customer data, call history is a great tool to earn more business from their online marketing. Can't answer the phone because you're on a job site? View your call log and give your missed calls a call back for an opportunity to win more business.
Cons (Why You Shouldn't Turn On Google My Business Call History)
The list of reasons why you shouldn't turn on Google My Business call history is much longer than the benefits:
Businesses receiving the wrong calls – A simple Google search will uncover many reported glitches in GMB's call history. Calls intended for one business are frequently routed to other businesses. That's not good; you may be losing leads to other businesses because of this glitch.
Google assigning "blocked" phone numbers – Unfortunately, not all phone numbers are good. If businesses who used the number before Google assigns it to you operated with malicious intent or spammed consumers, your assigned Google number from GMB call history may be in bad standing with carriers, resulting in calls being blocked before ever reaching your company.
Hidden customers not visible within call history – Consumers who hide their number from caller ID may not get through to your business.
Google assigns multiple different tracked numbers – Google assigns different tracking numbers to businesses every few hours, so yours may change several times in a single day.
Google does not assign exclusive numbers – Tracked phone lines assigned by Google and given to a business are not exclusive to that business.
Inconsistent call routing – A consumer may call your Google tracked phone number from a different phone than they originally called from (ex: their spouse's phone, their work phone, etc.) at a later date and time and likely won't be connected with your business.
Only applies to the "call" button on GMB listings – Only users clicking the "call" button on your Google My Business profile will be shown in the log of call history. Users calling your business from the Local Pack (aka "maps listings") or dialing the number they see on search results will not be logged in GMB's call history.
To summarize, if you're not doing any call tracking today, feel free to turn on Google My Business' call history feature, it will at least give you some understanding of how many calls you get from Google Search and Maps.
But GMB call history is incomplete in showing you the totality of calls from Google My Business, and for that reason, we recommend you should NOT turn on Google My Business' call history functionality. We dive into more below.
How to Track Google My Business Phone Calls Properly: A Customized Solution
Google My Business is a source of many kinds of phone calls, and for less sophisticated marketers, it's a fine source of data.
If you really want to improve your tracking of Google My Business phone calls, you'll need to consider a call tracking solution that allows you to track the phone calls where someone visited your website by first clicking the "website" button on Google My Business.
Additionally, if you're an advanced advertiser and are doing Google My Business pay per click (PPC) ads, tracking the Google My Business PPC ads as an extension of the Google My Business whole.
The tracking Google provides gets you part of the way there but is incomplete in helping you understand the breadth of calls from Google My Business, as a source. A customized call tracking solution will provide the entire picture, not part of it, like call history provides today.
Blue Corona: A Data-Driven Digital Marketing Agency
At Blue Corona, we work with hundreds of local businesses every day, helping them increase qualified leads and sales, reduce their marketing costs, and differentiate their brands online. And it all starts with Google search.
If you're struggling to drive more leads and sales from your website, or don't know where your leads are coming from, send us a message or give us a call and let's grow your business together.