Shopify chatbots are the future!
Chatbots allow you to offer customer service for your Shopify store without a live agent. It's like having a 24/7 robot butler.
Plus, when chatbots answer common questions, they save your staff — or yourself — from having to do it. This frees up time you can spend doing work that chatbots can't (robots haven't quite taken over yet).
The name of the game with chatbots is convenience for your customer and cost savings for you.
This article highlights ways you can use chatbots to better your eCommerce store. We've also included some chatbot do's and don'ts.
Then, we end with some of our favorite Shopify chatbot brands and why you'll like them.
Bonus: Get a free, easy-to-use Customer Service Report Template that helps you track and calculate your monthly customer service efforts all in one place.
What is a Shopify chatbot?
A Shopify chatbot is an eCommerce tool that simulates natural conversation. They pull data from your store to automate several tasks. These include necessary customer communication, checking store inventory, performing returns, and encouraging sales.
Shopify chatbots typically fall into one of three categories:
Smart chatbots are artificial intelligence (AI)-driven
Simple chatbots are rule-based bots
Hybrid models are a mix of both simple and smart
Chatbots that use AI are often more complex, leading to fewer robot-like mistakes. AI-powered chatbots come the closest to simulating actual, human-like actions out of the three types.
You can use rule-based chatbots for simple tasks, like ordering pizza over the internet. They're often more cost-effective — at least initially.
But, when these bots run into complicated (rather than predictable) requests, they fail. This may cost you sales with frustrated customers; the true cost can be difficult to measure.
Hybrid models exist between smart and simple and can cover a wide range of capabilities.
Why use Shopify chatbots?
Shopify chatbots are an innovative way to provide personalized, real-time resolutions for customers. They can automate returns, report on an order status, and increase sales by checking inventory in seconds.
Here are five ways to use Shopify chatbots to improve your eCommerce business.
Save on labor costs
Chatbots cost nothing to engage with. These bots take care of work that would otherwise need paid staff members or expensive software platforms.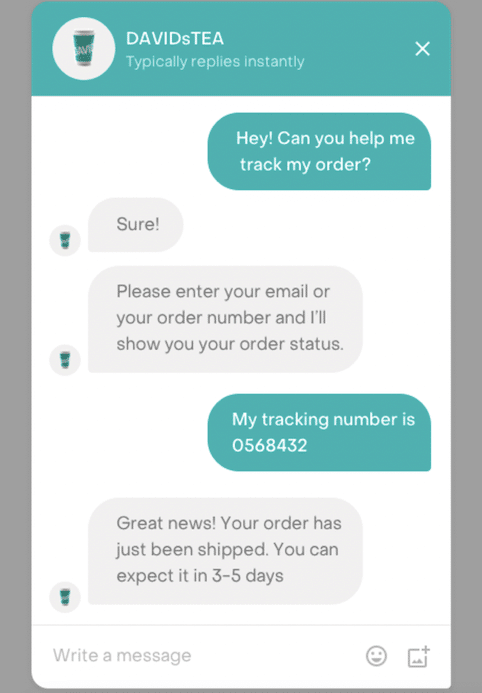 Source: HeyDay
Make buying easier for your customers
A great chatbot will guide consumers through the buyer's journey. With AI, some chatbots can capture unique search attributes, shortlist them, and show shoppers related products. AI-driven product searches generate personalized recommendations. This makes it easy for customers to find what they want.
Source: Heyday
Your chatbot can prompt shoppers to put the product in their shopping cart, find more like it, or keep shopping. And, after a shopper puts an item in their cart, your chatbot can prompt them to checkout.
Always-on support to augment your sales team
You get always-on support without having a 24/7 support team. By adding a virtual rep to your team, you can capture and engage leads at all hours of the day or night. Then, your bot will pass them off to your human associates at the appropriate time.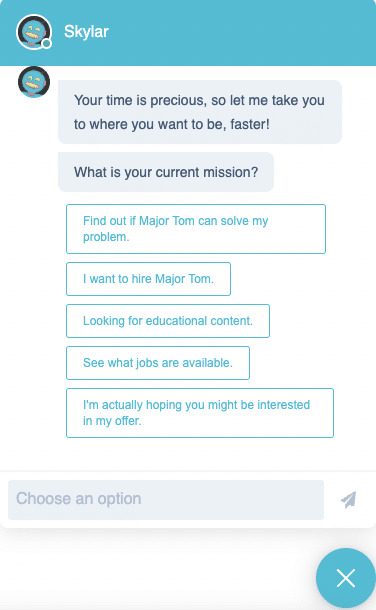 Source: Major Tom
Multilingual chatbots
Chatbots are great equalizers. They can use machine-learning algorithms to digest hundreds of languages. Customers can peruse your page and troubleshoot in their native languages.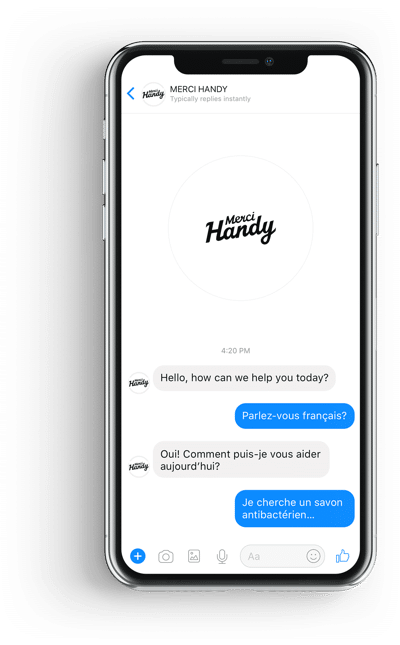 Source: HeyDay
Constant improvements (AI)
One of the best things about chatbots is their ability to constantly improve on themselves. The more feedback and experience they have with your customers, the better you're able to train them.
Do's and don'ts of using Shopify chatbots
Do use them for automation. Don't use them for customer complaints.
Have your chatbot:
lead consumers along logical journeys,
respond to messages, and
automate tasks like order tracking.
Don't use them for customer complaints. The last thing you want to do is to put a bot in front of a ticked-off consumer. Aside from telling someone to calm down, it's the fastest way to go from annoyed to angry.
Do use them to congratulate customers on milestones. Don't use them to congratulate your partner on your anniversary.
In all seriousness, it's important to know what's appropriate. Using chatbots to wish clients a happy birthday shows appreciation.
Using a chatbot for anything more personal can lead to awkwardness. Don't sacrifice professionalism for the sake of personability.
Do use them for omnichannel communication. Don't use them to spam those lines of communication.
Chatbots are great for integrating support across multiple channels, from your Shopify chat app to Facebook Messenger. But don't post the same thing to every channel you're connected to. And don't spam your channels with salesey messages.
Shopify chatbot for retail
When it comes to Shopify chatbots for retail, you've got a lot of options. Same goes with bots specific to retail Instagram and Facebook Messenger bots.
Keep in mind, you're entrusting your customer satisfaction with them in a big way. So, we're including a few for you to consider.
Heyday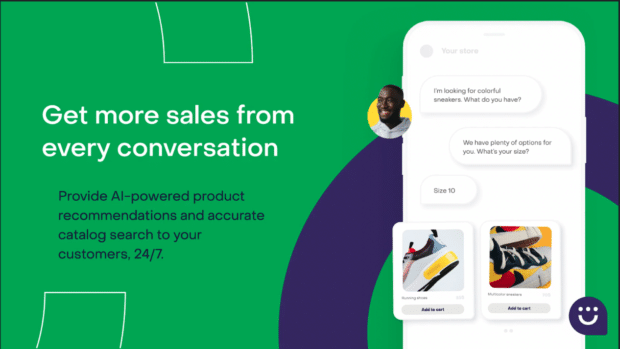 Heyday — a conversational AI platform — joined the Hootsuite team back in August 2021. While easy integration makes it a favorite of ours, there are a lot of other reasons we promote Heyday, too.
Heyday's big value prop is that it is a smart(er) bot — and that checks out. This AI-driven chatbot offers an easy way for clients to communicate in English or French without capitalizing on your employees' time. And, it has a seamless hand-off for when it's time to chat with a real live human.
Bonus: Get a free, easy-to-use Customer Service Report Template that helps you track and calculate your monthly customer service efforts all in one place.
The human-AI hybrid model is a combination we haven't seen a lot of yet, but it works to solve a problem in online shopping: Genuine human interaction. Heyday can connect a site visitor remotely with store associates via live chat and video calls.
Heyday is also set up to take care of customer service questions and sales inquiries. Most chatbots only do one or the other.
And, it only takes 10 minutes to integrate with your Shopify chat app and store! Listen to Stronger by Kelly Clarkson three times in a row, and your HeyDay-Shopify integration will be done. So. Fast.
In terms of Shopify, Heyday says they can quickly "provide product recommendations (and present your entire product catalog to customers in chat), track orders, automate FAQs, and unify all your customer conversations across channels in a single inbox."
The Shopify app starts you off with a pre-loaded conversation template that should take care of most of your customers' needs, but if you're looking for more customization, you can upgrade to Heyday's enterprise package.
Try a risk-free, no commitment 14-day trial and see what you think.
Gobot
Shopping quizzes make Gobot, an AI-powered chatbot, stand out from other Shopify bots. It comes with prebuilt templates and questions that help customers choose the best products. Gobot makes recommendations based on what customers like or need, thanks to AI and natural language processing skillsets.
One of the main benefits of Gobot's quizzes is the potential for an increase in customer loyalty and engagement.

Source: Gobot
Gorgias
Gorgias is a great app for companies with complex feedback and customer support needs. It's a chatbot that uses a help desk model, allowing your organization to stay omnichannel-organized with support requests, customer tickets and feedback, and live chat.
Gorgias is customizable. Brands can maintain a level of personal, human touch with their customer base. With a help-desk-style app, this is invaluable.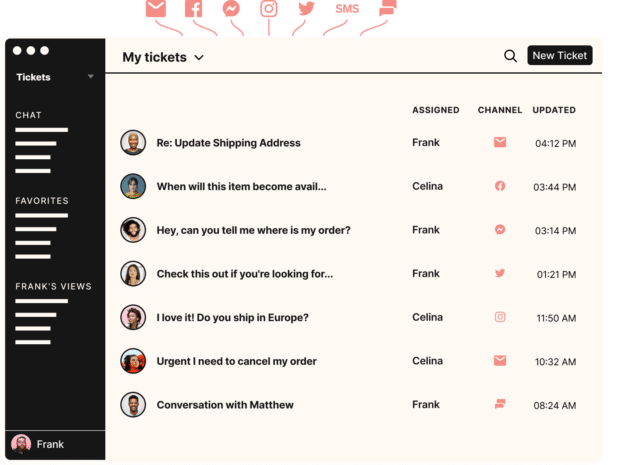 Source: Gorgias
Engage with shoppers on Shopify and turn customer conversations into sales with Heyday, our dedicated conversational AI tool for retailers. Deliver 5-star customer experiences — at scale.
Turn customer service conversations into sales with Heyday. Improve response times and sell more products. See it in action.
The post How to Use a Shopify Chatbot to Make Sales Easier appeared first on Social Media Marketing & Management Dashboard.