Standing out in a sea of organic and paid Facebook content is tough. And even if you manage to catch peoples' attention as they scroll through your products, it's hard to turn browsing into purchasing.
Even if you're an experienced retailer with a keen eye for Facebook advertising and selling — what happens if you're not selling as many products as you'd like? How do you take your Facebook sales up a level?
There's always room for improvement, no matter where you are on the Facebook selling journey. That's why we're sharing 11 ways to optimize your Facebook sales strategy and 4 tools to help you make more sales.
Bonus: Download a free guide that teaches you how to turn Facebook traffic into sales in four simple steps using Hootsuite.
Is Facebook a good place to sell products and services?
With around 2.9 billion active users, Facebook is the most visited social media site worldwide. Its users also spend a lot of time on the platform — an average of 19.6 hours each month.
And while the social network is known for encouraging interactions between family and friends, people (especially Generation Z) are increasingly using Facebook to interact with brands and make purchases.
In fact, 76% of internet users aged 16 to 64 use social media platforms for brand research. And 23% of users follow companies and brands they purchase from on social media.
With new features like Meta Pixel and Facebook Shops making it even easier for brands to optimize campaigns and for shoppers to purchase from you, it makes a ton of sense to be selling your goods and services on the OG social network.
11 ways to optimize your strategy for Facebook sales
With millions of businesses to compete with, competition to stand out from the pack is fierce. Knowing how to maximize your paid and organic Facebook campaigns is key to making more sales.
Here are our top 11 ways to boost your strategy for making more Facebook sales.
1. Listen in on conversations about your brand
Social listening is the process of scanning social media platforms for mentions and conversations related to your brand — and then analyzing them to drive actionable insights. This action might be thanking a satisfied customer or modifying your returns policy following a negative customer comment.
Constantly monitoring what customers are saying about your brand will help you understand more about what people want from you. It's also a chance to engage with customers and show your brand's human side.
Dog toy subscription company, BarkBox is known for consistently engaging with customers on social media. They take the time to compliment customers' four-legged friends: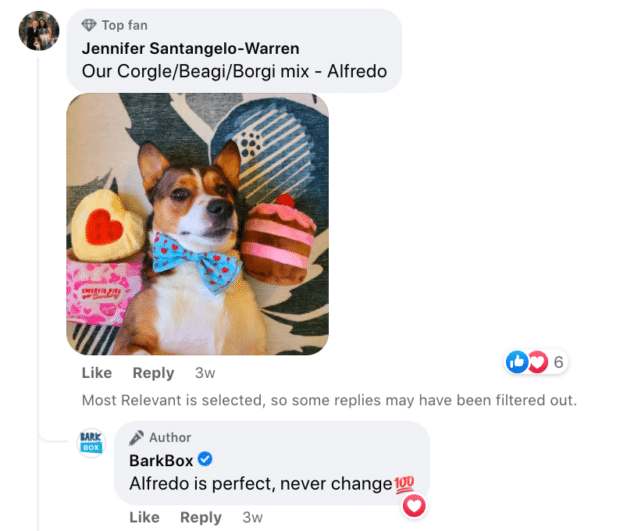 Image source: Facebook
They're also quick to thank customers and show their appreciation: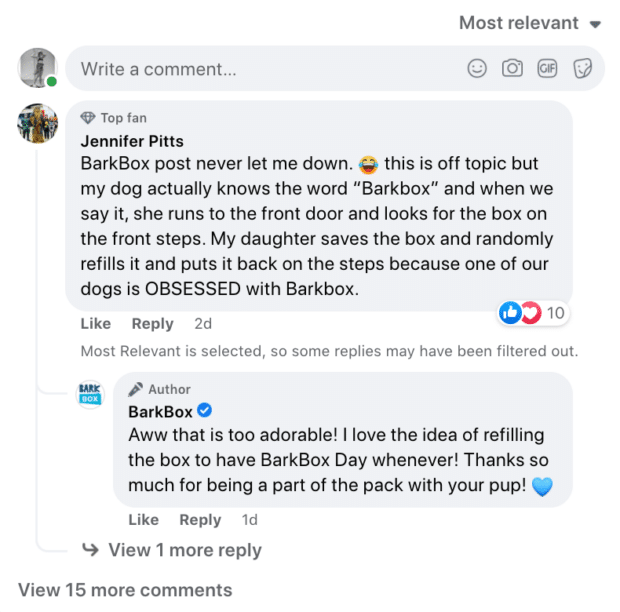 Image source: Facebook
Listening to customer conversations helps you better understand what your audience expects from your brand. Armed with this knowledge you can amend your social media strategy and your product or service offering to better suit your customers.
2. Build a community
Creating Facebook Groups is a great way of bringing together like-minded customers and building a sense of community around your brand.
You could use a Facebook Group to share information about events, tutorials, UGC (with permission and credit), or customer success stories. Encourage members to share their own content too. The key is to use Facebook groups as an authentic way of connecting with customers and not being outright salesy.
For example, workout clothing brand Lululemon has a public Facebook Group, lululemon sweatlife, with over 12K members. The brand uses the group to share at-home workouts, keep members connected, and help them make friends along the way: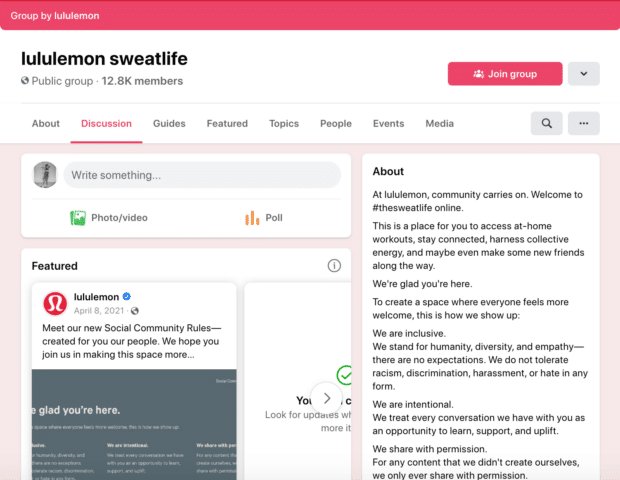 Image source: Facebook
Many of the group's members share their own home workouts and upcoming fitness events with each other too: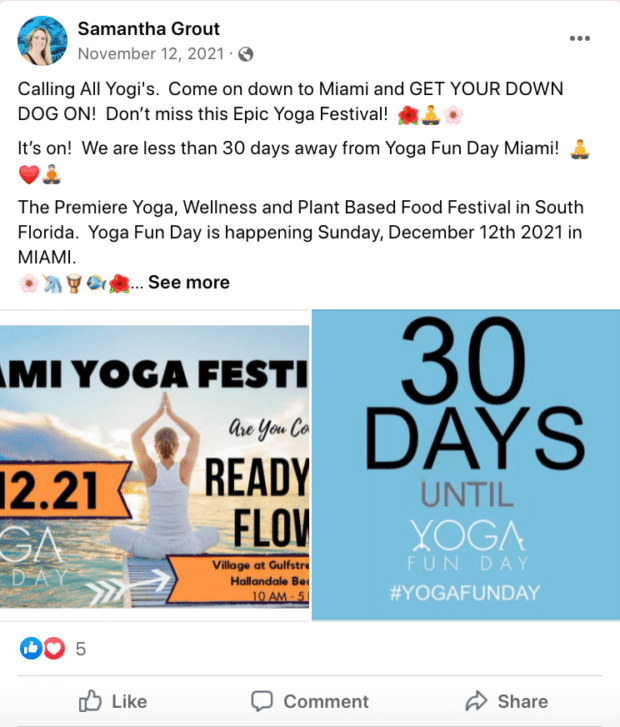 Image source: Facebook
Facebook groups are a chance to build a community around your brand and interact with visitors in a helpful and positive way. The aim is to build connections and encourage people to spend time with your brand in an authentic way without an explicit end goal of making sales. (But the loyalty built along the way will pay off in purchases in the long run.)
3. Post engaging (but not overly salesy) content
There's no one-size-fits-all approach to creating engaging Facebook content. Before you start posting, think about your brand's personality and what's most relatable to your audience.
Is your brand voice funny or educational? Do your customers come to you looking for a solution to a complex problem or do they want to be entertained? Knowing the answers to these questions will help you post content that's most likely to be relevant and engaging to your followers.
Chris Grayson, the founder of InfluencerMade.com, suggests creating relatable content that has the potential to generate social shares and go viral.
"I encourage brands to focus on making content that has the potential to go viral. Creating memes surrounding a popular trend is a great way to connect with Gen Z users in a way that is relatable and fun. It generates social shares and is the most effective way to maximize your reach and make the most of a smaller budget."
For example, Chipotle has a knack for creating relatable and shareable memes on their Facebook page that generate a conversation with their customers: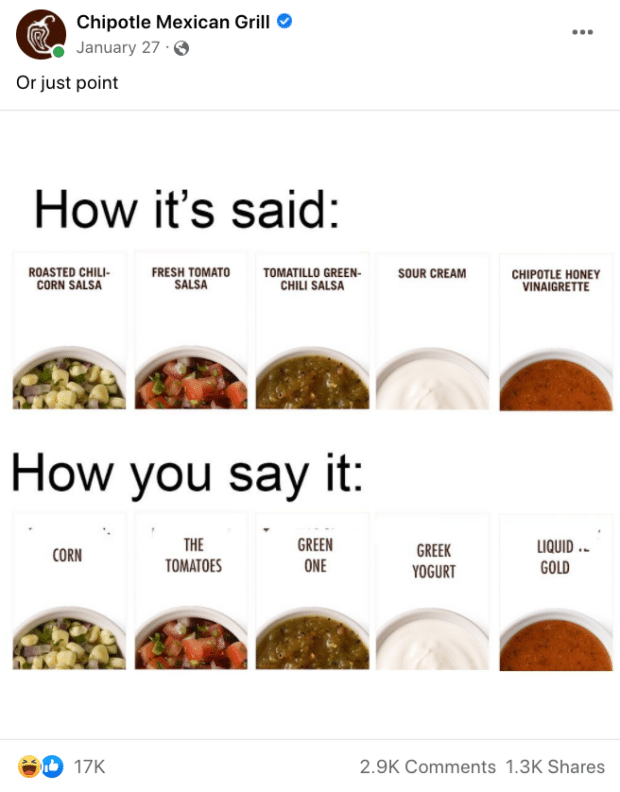 Image source: Facebook
When it comes to creating engaging content, don't be afraid to mix it up — variety keeps things interesting for your followers. Consider creating posts that ask followers questions, share quirky facts about your industry, or publish Reels showing how to use your product.
4. Respond to customer service inquiries
Quick and helpful responses to customer service inquiries create a positive reputation for your business and build trust among existing and potential customers.
One more reason to maintain high response rates is that Facebook displays how responsive your business is right at the top of your Facebook Page: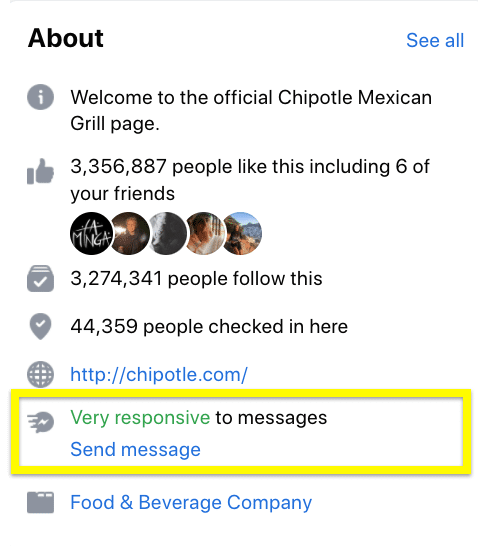 Image source: Facebook
To be awarded the Very Responsive badge, your page must have a response rate of 90% or more and a response time of fewer than 15 minutes, according to Facebook.
Bonus: Download a free guide that teaches you how to turn Facebook traffic into sales in four simple steps using Hootsuite.
Responding quickly to customers is part of offering high-quality customer service. And since 93% of customers are likely to make repeat purchases with companies that offer excellent customer service, quick replies will only help your Facebook sales.
To help you respond to customer inquiries quickly try setting up AI chatbots that will automate part or all of the conversation for you (more on this later).
Learn more about customer support on Facebook in our complete guide to social media customer service.
5. Enable reviews
Customer reviews are an important factor in helping customers decide where to purchase. In fact, 89% of customers read reviews before making a purchase.
Customers use reviews to get insight from previous buyers to help them decide whether to purchase a product or service.
Enabling reviews on your Facebook page can help encourage future customers to purchase from your brand.
How do I enable reviews on Facebook?
Log into your Facebook account and go to your business's Facebook Page.
In the left-hand menu, navigate to Settings.
Select Templates and Tabs.
Find the Reviews tab and toggle it to be on.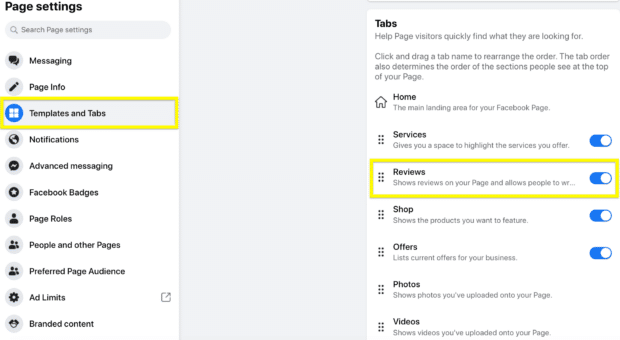 That's it! Now past customers can leave reviews on your products and help future customers make informed purchasing decisions.
6. Engage with customers live
30.4% of internet users aged 16 to 64 watch video live streams every week. Live streaming is completely free and offers an interactive way of engaging with Facebook users.
Don't be afraid to get creative with Facebook Live streaming and see how you can interact with customers in new and innovative ways. Consider holding product tutorials, demos, expert interviews, and Q&A sessions to showcase your offering to customers. Use them as a chance to engage, educate, and entertain your followers.
Matt Weidle, the business development manager for Buyer's Guide has found live streaming on Facebook an effective way of engaging with potential customers.
"We have found that engagement is really strong, and we have seen an increase in sales through our website and retail location during these live videos, as well as in the days that follow."
He's also found live streaming events are a great way of answering customer questions and improving traffic levels.
"By cooperating with similar businesses, we can use Q&As as a feasible content format. And by conducting a series of live events on our Facebook Page, we can improve the amount of traffic to our page and potentially attract new followers."
When using Facebook Live, make sure to have someone dedicated to replying to comments while the stream runs and after it's finished. That way you won't miss out on any customer questions or feedback.
7. Use Facebook ads
Facebook ads have the potential to reach 26.7% of the world's population. To get the most out of your campaigns though, it's important to know your audience and create ads most suited to your product type.
Start by creating a digital window shopping experience for visitors. Facebook has multiple ad types for displaying your products. Choose between:
Image ads
Video ads
Carousel ads
Slideshow ads
Instant Experience ads
Collection ads
Stories ads
Think about which ad type is best for displaying your products. The Carousel Ad enables you to showcase multiple products in one ad through several cards that users can click through: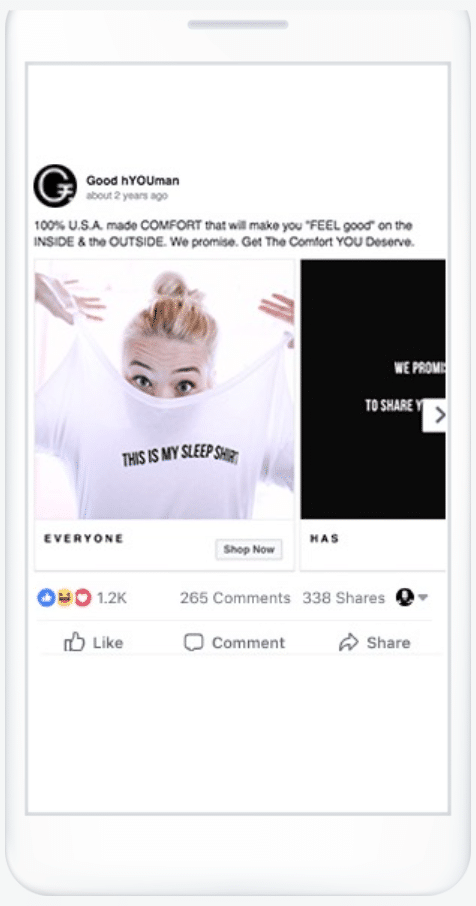 Image source: Facebook
You can include up to 10 images and videos which all have a CTA button at the bottom. When users click on the CTA or the image, they'll reach a landing page where they can buy your product.
The Instant Experience Ads is a mobile-only interactive full-screen ad that lets users swipe through a carousel of images, zoom in and out of images and tilt the screen in different directions.
When running paid ad campaigns, always use Audience Insights to better define your target audience. Then target your paid ad campaigns to users with relevant interests, lifestyles, locations, and demographics. By honing in on your target audience you'll maximize your ad budget and get more ROI.
8. Explore Facebook's native shopping features
Facebook's native shopping features enable you to create digital storefronts across Facebook and Instagram. You can create product catalogs, set up checkout so customers don't need to leave the platform, and link your ad campaigns to the storefront.
Fashion brand Feroldi's uses Facebook's native shopping features to create a digital storefront experience complete with a checkout: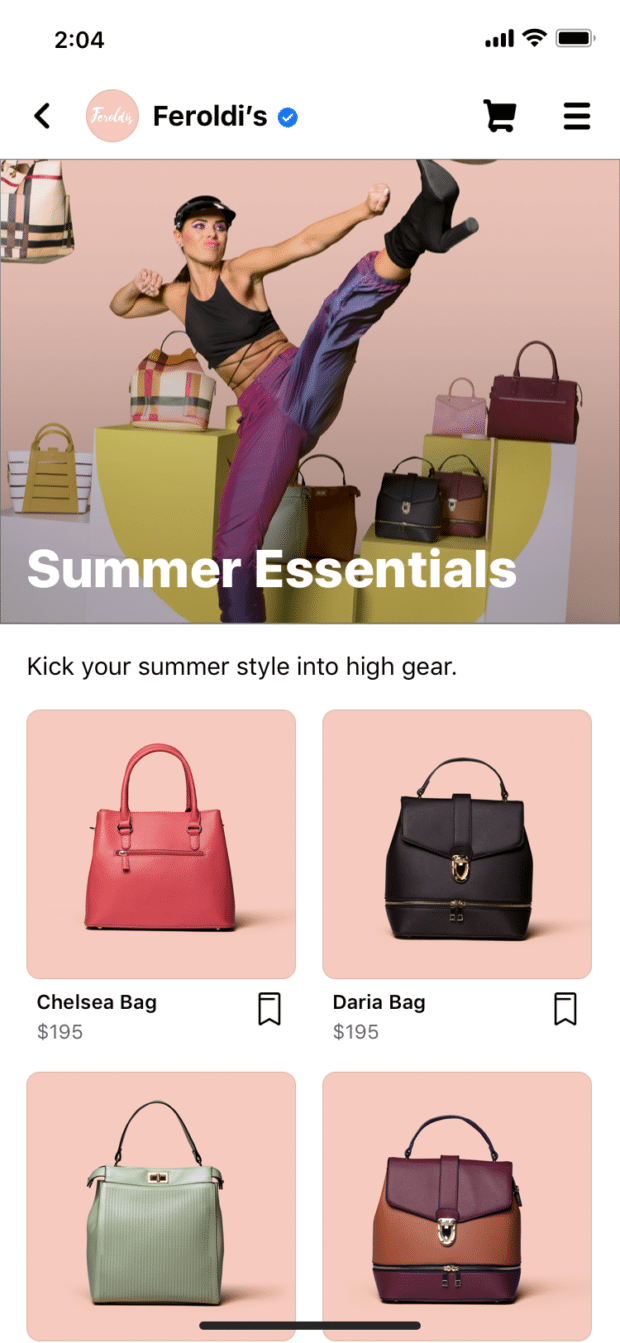 Image source: Facebook
Learn more about Facebook Shops.
9. Set up an affiliate program
Affiliate marketing is a way of getting your products in front of larger or more niche audiences via content creators or influencers. Content creators will earn a commission from referring customers to your brand, and you'll tap into their engaged audiences.
Affiliate creators tag affiliate products on their branded content posts and can add you as their brand partner in Instagram posts.
Using a Facebook affiliate program, you can:
Review affiliate performance of participating creators through Insights.
See content using the creator content tab to see how creators are promoting your products.
Set commission rates for products in your shop and run campaigns for specific creators or products.
Working with affiliate creators within your industry is a great way of getting your product in front of more people who may end up purchasing from you.
10. Upsell with an AI chatbot
AI chatbots don't just help you respond more quickly to customer inquiries — they're also an opportunity for upselling products to buyers.
When a customer starts a conversation about a certain product with your chatbot, the AI can suggest similar and complementary products, and guide the customer to purchase.
If customers remain undecided, your chatbot could recommend alternatives or promote other suitable products. In practice, this might look like a chatbot helping a customer complete their outfit or adding tech accessories to their purchase.
Source: Heyday
11. Set up conversion tracking
Conversion tracking enables you to see how many purchases happened as a result of your Facebook ads. Knowing that number is essential for refining and optimizing future campaigns so you can maximize your sales.
How do I set up conversion tracking?
Go to Ads Manager.
Select Campaigns, Ad Sets, or Ads depending on what you want to measure.
Choose the Columns dropdown menu.
Select Customize Columns and choose the boxes next to the actions that are most important to you
Click Apply and you'll see these columns in the table.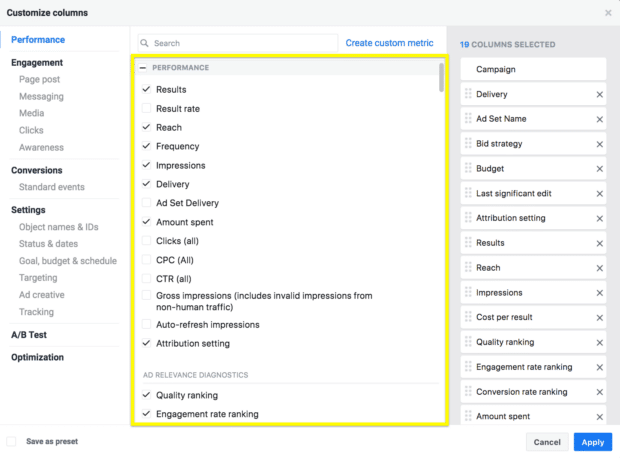 Once set up, you can measure and track the conversions most important to each of your campaigns.
4 tools that will help you make more Facebook sales
Now you know the top strategies for increasing Facebook sales, it's time to look at the tools that will help you implement them.
1. Facebook Shops
Facebook Shops is a social commerce feature that enables businesses to create a free online store on Facebook and Instagram. You can choose to feature different products, create collections, and tell your brand's story within Shops.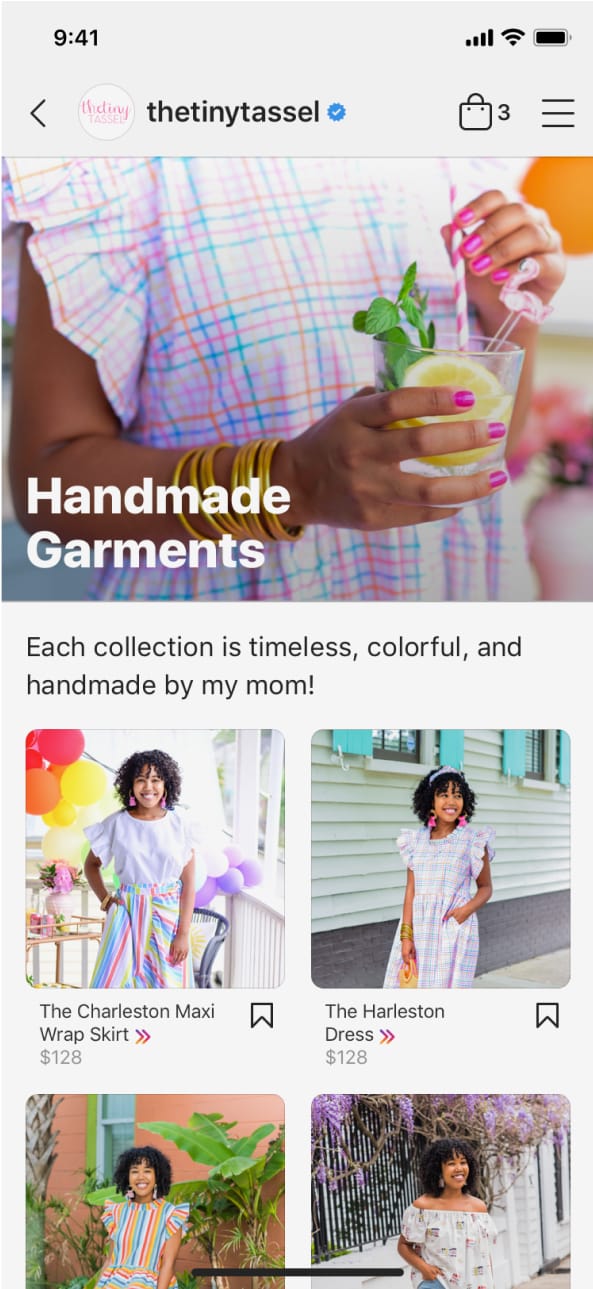 Image source: Facebook
Using Facebook Shops, you can answer customer inquiries through Messenger, WhatsApp, or Instagram DMs. Customers can access Facebook Shops on a business's Facebook Page or find them through ads or Stories. They can view your full collection, save products, and place orders on your website or directly on Facebook if you've enabled checkout.
Meta Pixel
The Meta Pixel places and activates cookies to track visitors as they interact with your business on Facebook and Instagram. It collects data that helps you track conversions from Facebook ads, optimize your campaigns, build targeted audiences for future campaigns, and remarket to people who have already taken some action on your site.
For example, a visitor might start browsing haircare products and click through to find out more details. But instead of taking action like sending a message, they get distracted and keep scrolling through their feed.
The next time they open Facebook or Instagram, an ad for these products might pop up: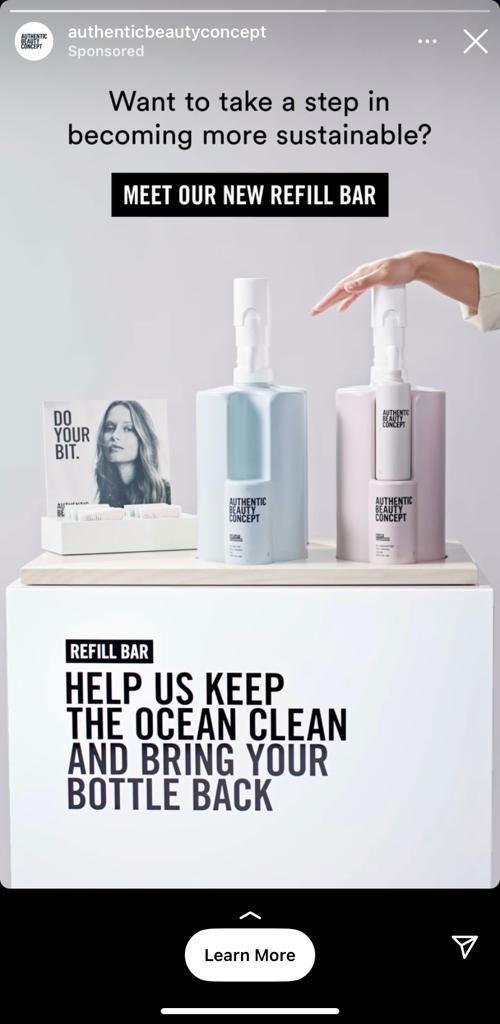 Image source: @authenticbeautyconcept
This is retargeting. It's a useful way of reminding visitors to find out more about products or to come back and buy the items they left in the shopping basket.
Retargeting isn't the only function of the Meta Pixel. It's also useful for tracking, analytics, and optimizing ad campaigns.
Heyday
Most growing retail businesses don't have the time or human resources to respond to all of the customer requests they receive.
Most of your customers probably have similar questions like "When will my order arrive? What's your return policy? How much is shipping?"
It's easy to automate these frequently asked questions with AI chatbots like Heyday. When customers have more complex questions about product specifications or unexpected delivery delays, you can filter the chat through to a qualified team member.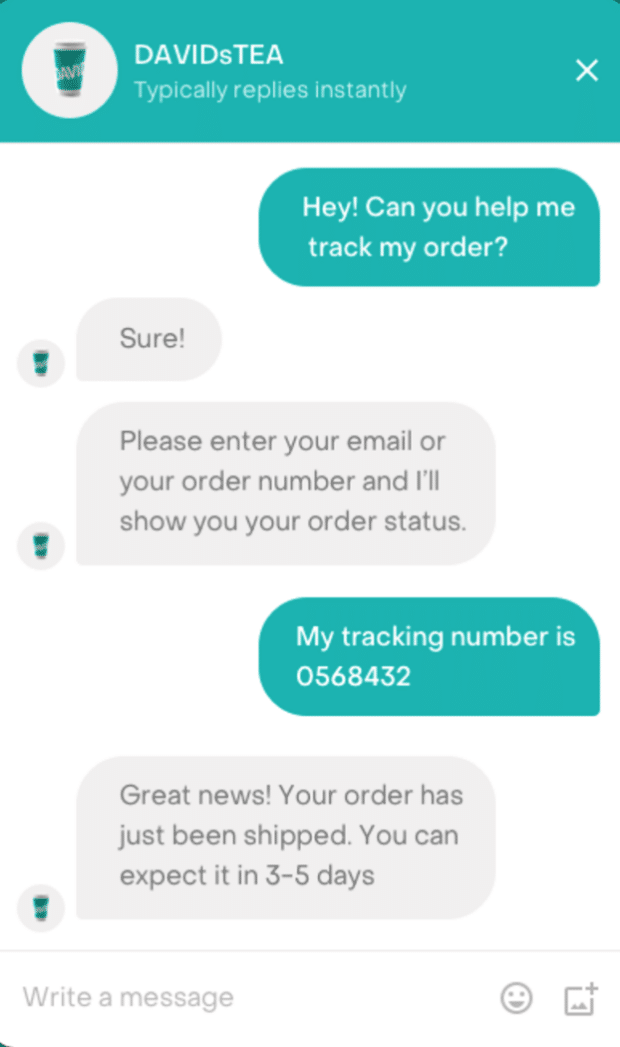 Image source: Heyday
Ilija Sekulov, a digital marketer at MailButler explains how using Heyday has helped her clients improve customer experience and boost sales, "The Heyday chatbot has come to play a crucial role in improving customer experience sales. I have used the Heyday app with one of my clients, and we showcased the products that didn't get so many sales from the site (because they were hard to find). We managed to increase these sales by more than 20%."
Hootsuite
Composer and Planner
Scheduling Facebook posts helps busy retail business owners publish content consistently more easily. Using a content calendar will help you maximize your Facebook content efforts while also lowering the amount of time you spend on planning and posting content.
Using the Hootsuite Composer and Planner, you can create content and schedule it to be published weeks or months in advance. That way you don't need to publish everything in real-time. Instead, you can allocate time to schedule it up and focus on community management or other pressing business tasks.
Learn more about scheduling content with Hootsuite:
Inbox
You're probably used to receiving dozens or hundreds of customer messages a day across multiple social media platforms. Staying on top of all these incoming messages can be a challenge.
Hootsuite's Inbox feature enables you to monitor and answer messages from multiple networks in a single view. Filter out those Facebook messages that require action, assign the right team member to address customer inquiries with simple team assignments, and spread the workload evenly.
Say goodbye to overflowing inboxes and feeling overwhelmed. Instead, never miss a message or mention again and ensure customers receive the response they need.
Streams
Our Streams feature can help you more easily listen to and engage with your community.
Instead of scheduling up your month's Facebook posts and forgetting about them, Streams help you keep an eye on post engagement and practice social listening. Monitor and react to social activities relating to your brand and industry like mentions, tags, keywords, and hashtags.
Setting up Streams enables you to see how your audience is reacting to your paid ad and organic Facebook campaigns so you can make adjustments if you need to.
Impact
Using Hootsuite Impact, measure your campaign performance and make informed decisions about your paid and organic Facebook campaigns. You can track, analyze, and better understand audience engagement across Facebook at all points in the customer journey.
You can also get the bigger picture on how your strategy contributes to reaching business goals by adding Google or Adobe Analytics to monitor how each post leads to sales. Customized dashboards help you to see how your Facebook campaigns are increasing conversions, leads, and sales.
Boost your Facebook sales with Heyday. Engage with shoppers on Facebook and turn customer conversations into sales with our dedicated conversational AI tools for social commerce retailers. Deliver 5-star customer experiences — at scale.
Turn customer service conversations into sales with Heyday. Improve response times and sell more products. See it in action.
The post How to 10X Your Facebook Sales (11 Strategies for Brands) appeared first on Social Media Marketing & Management Dashboard.