We're approaching the end of 2020, and what a year it's been.
From the Australian bushfires to the COVID-19 pandemic, and the outcry against racial inequality resulting in the Black Lives Matter movement gaining global momentum, day to day life has changed for many of us. Our ability to connect authentically online has become more important than ever.
In research published last month, we revealed the extent of global social media use. There are now 4.14 billion engaged users who spend an average of 2h 29m online per day—with more than 14 people starting to use social media every second.
That's put social media managers—and the tools they use—at the forefront of how brands communicate with customers. My teams have spent the last few months working on features to make it easier for you to engage in the ways your customers want, and easier to report on the success you have doing it.
Here's a breakdown of some of our top releases.
Bonus: Read the step-by-step social media strategy guide with pro tips on how to grow your social media presence.
Get creative on Instagram with new formats
The proportion of Instagram users visiting business profiles has never been higher—200 million users visit at least one per day. To help you create the content you need to drive engagement, we're adding Stories and carousel posts to the roster of formats supported within Hootsuite.
If Stories are part of your strategy, make sure you're using our new capabilities to create, visualize, and schedule right from the Hootsuite dashboard.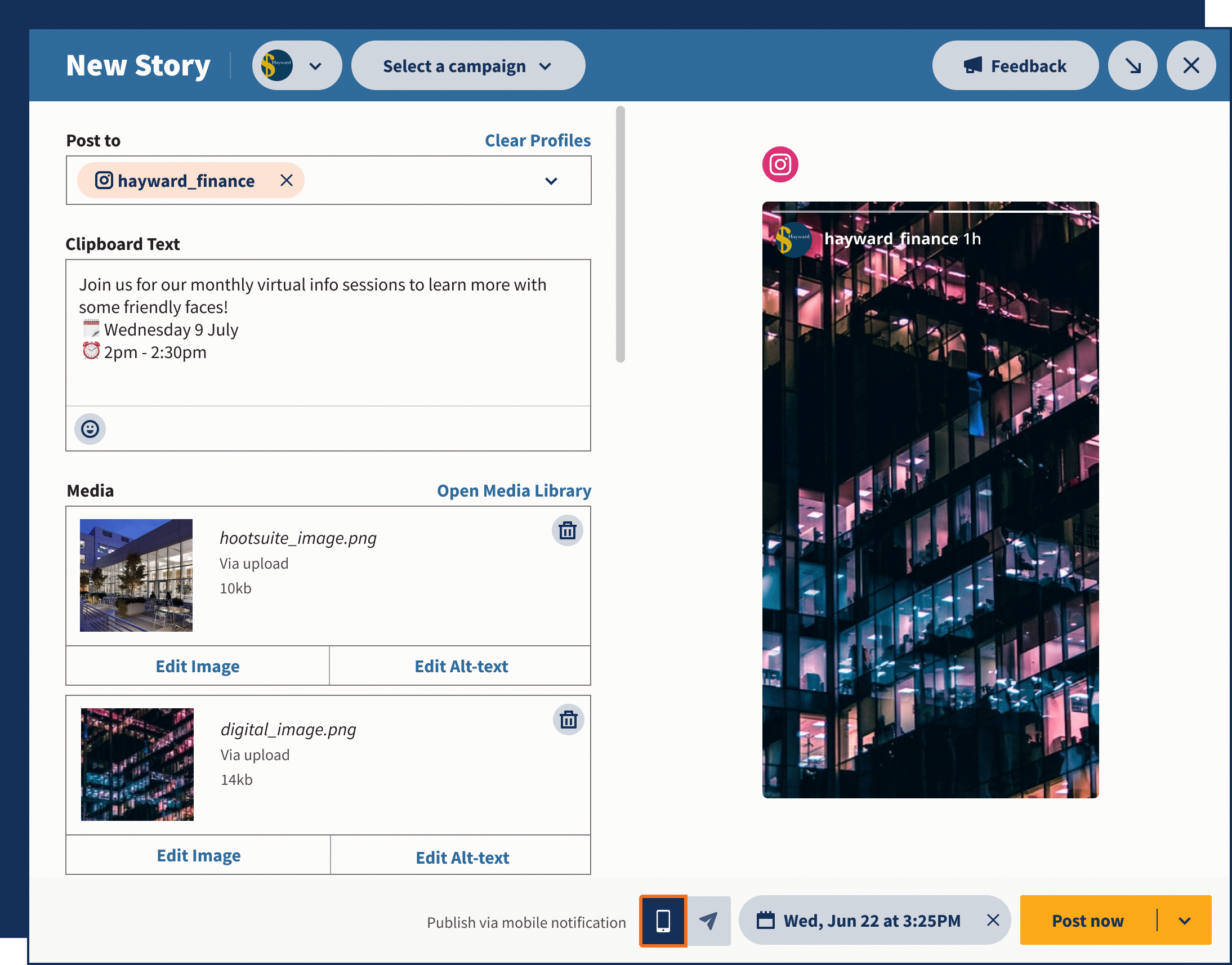 Source: Hootsuite
Like Stories, Instagram carousel publishing will soon be available to all plan types. Look out for the release, which will allow you to create a mix of up to 10 images and videos in one Instagram post, schedule it within your entire social calendar, and then publish via mobile.
For customers on a Team plan or above, collaboration and performance monitoring is also included in these Instagram publishing enhancements.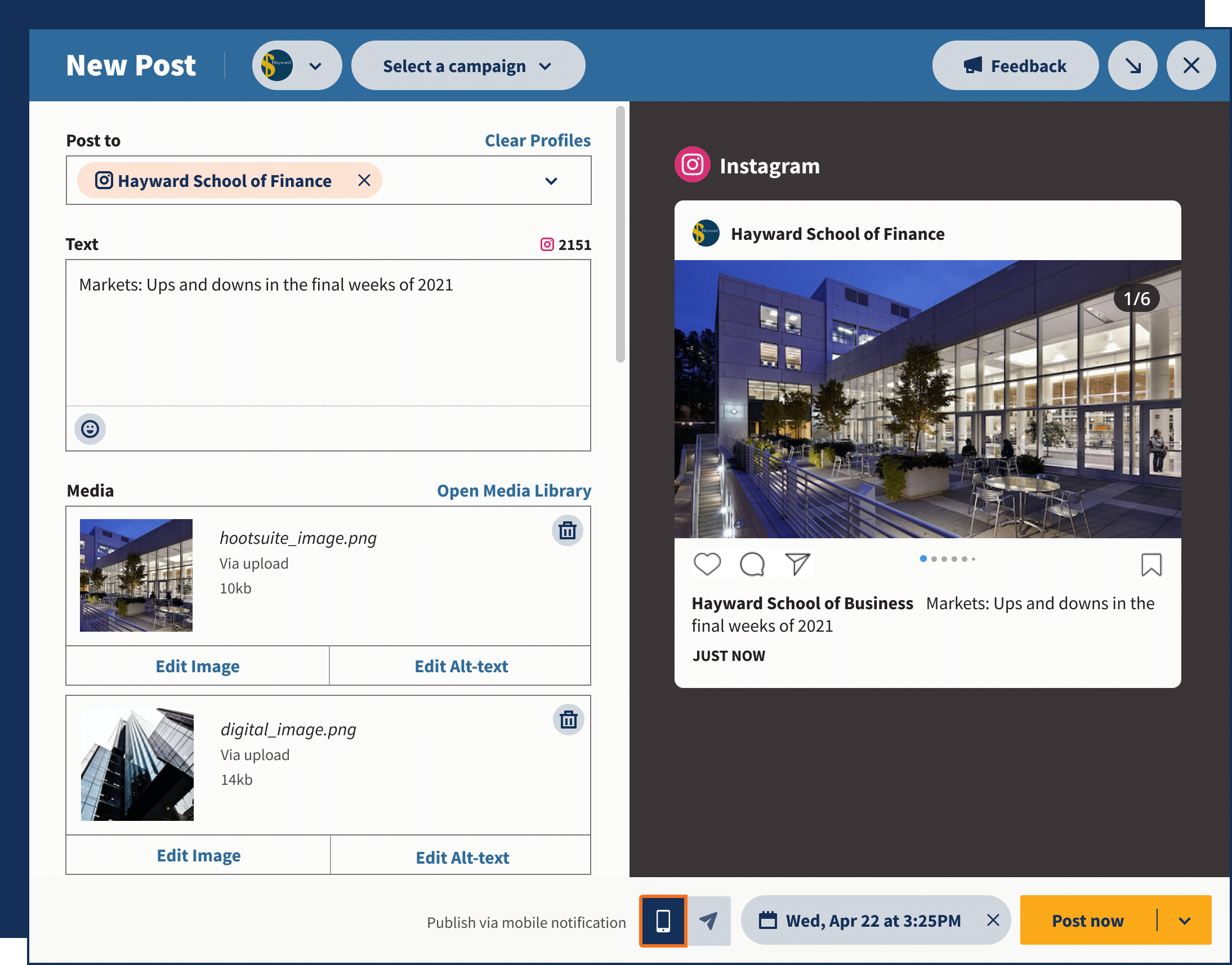 Source: Hootsuite
Engage more efficiently with Inbox
We've seen Hootsuite Inbox activity rise by as much as 115% this year—and we're fully invested in making your Inbox experience as productive and efficient as possible.
For those on Business and Enterprise plans, you can now use 'saved replies' to reply faster and more consistently. The feature allows you to create and save common responses to inquiries and, for many organizations that have seen their inquiry volume rise, this has been a great time saver that increases customer satisfaction.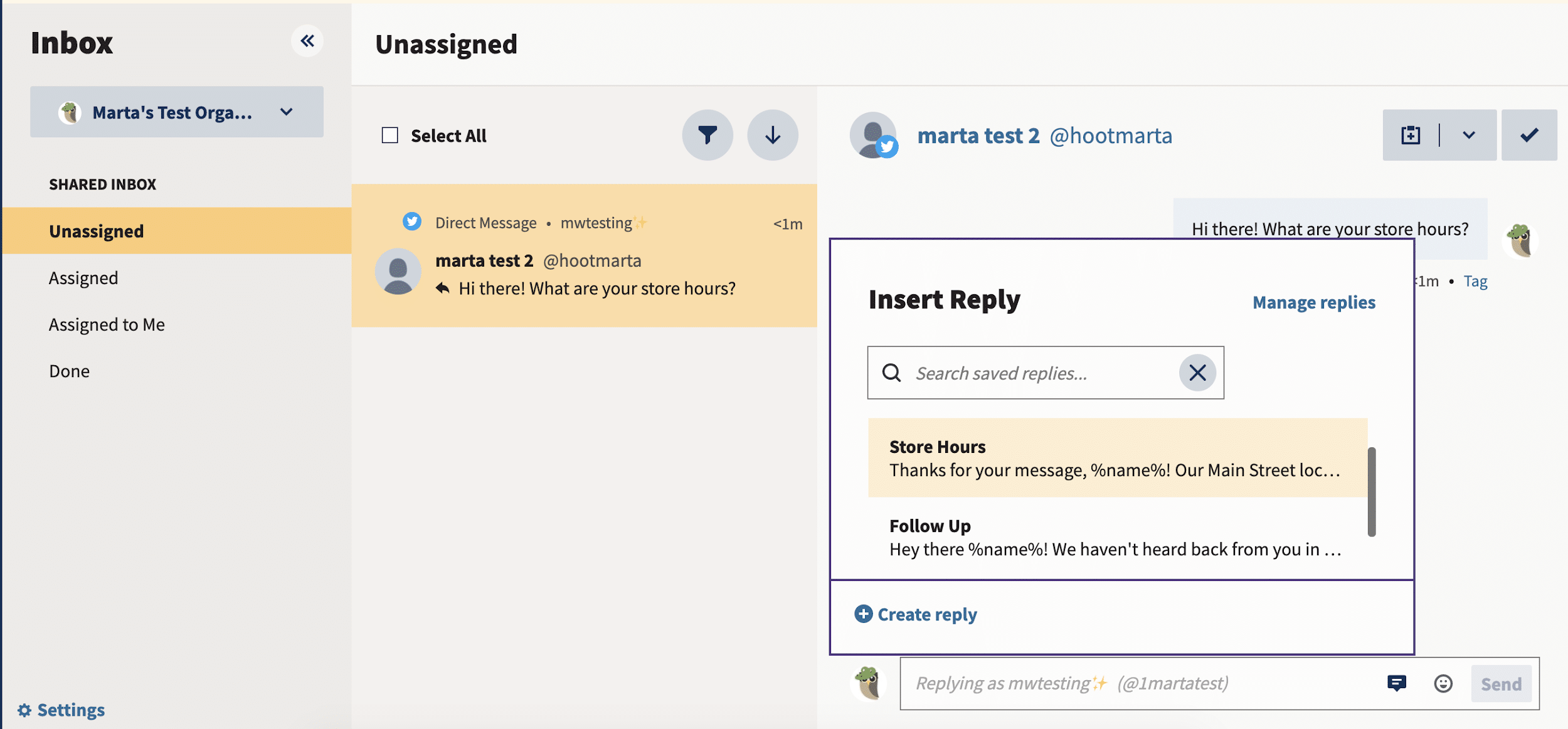 Source: Hootsuite
We also recently released 'suggested saved replies', which generates automatic recommendations based on machine learning. If you've already used saved replies, you'll now see a 'suggested' label next to saved replies that are predicted to be a relevant response to that particular inquiry. Select the right one and send it like any other reply. It's that easy.
Finally in this section—drumroll, please—our most requested feature will soon be available! We know you value the relationships you build on Instagram, and many customers have been asking for a way to manage that within their Inbox in Hootsuite. We're excited to soon be able to offer Instagram Direct Messages directly in Hootsuite Inbox.
What does "soon" mean? Well, right now we're in the beta phase, working closely with Messenger from Facebook to provide select customers with early access for testing. Availability for all Hootsuite customers is just around the corner—read our news release for more information and look out for the announcement in 2021.
Elevate your impact with new reports
Our recent Social Transformation Report revealed that social media now captures between 13-24% of the marketing budget. With more money on the line, we want to make it easier for you to share the value that social brings.
In Hootsuite Analytics, a new-look templates gallery and search bar streamlines navigation between different reports and data providers. When creating reports from scratch, you can now see how each metric will appear, and adjust the reporting tiles in a preview window before finalizing the report. Customize reports further by resizing tiles to make sure the most important stats stand out to your audience right away.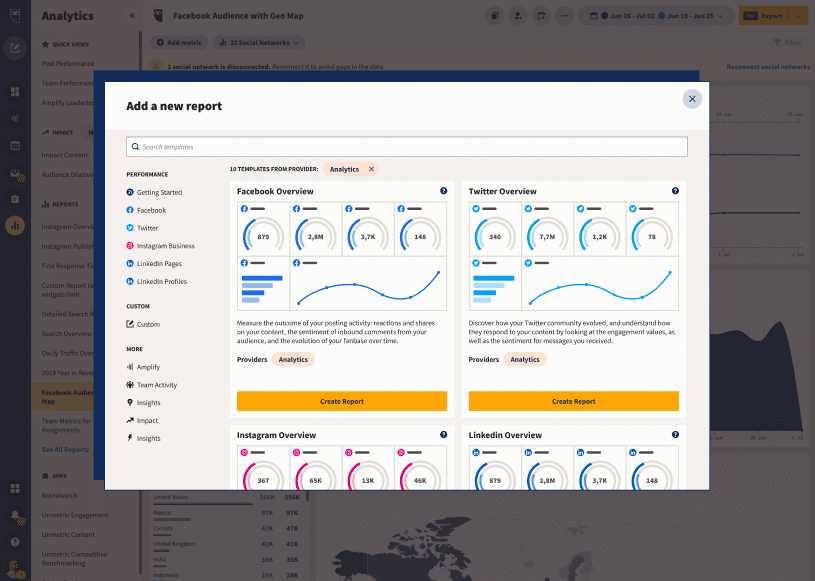 Source: Hootsuite
For customers on Enterprise Plans with Paid Hootsuite Impact, there are improvements to LinkedIn Video metrics, too. View additional metrics, like reactions and impressions, alongside standard metrics to get a complete picture of how a video is performing. We've backfilled 500 posts for all eligible users, so you can start analyzing your video content right away.
That's not all for Impact users. Tracking your overall performance on social media is impossible without a complete view of your paid and organic content together, so we've introduced new analytics templates that include paid and organic social data from Facebook, Twitter, Instagram, and Linkedin, and an organic template for Youtube.
All these reports are easily customizable and, when you're ready to hit 'go', schedule the report to run automatically so you can get back to focusing on value-add tasks.
Improve the management and reporting of employee advocacy
Employee advocacy is an area of focus for many of our customers and I'm pleased to announce some improvements to Hootsuite's advocacy product, Amplify.
To make content easily discoverable for large groups of people, we've added filters within Amplify. Search content in a variety of different ways using the filters, including: network, type (image vs. video), personalization rules, and whether posts have been shared before.
Bonus: Read the step-by-step social media strategy guide with pro tips on how to grow your social media presence.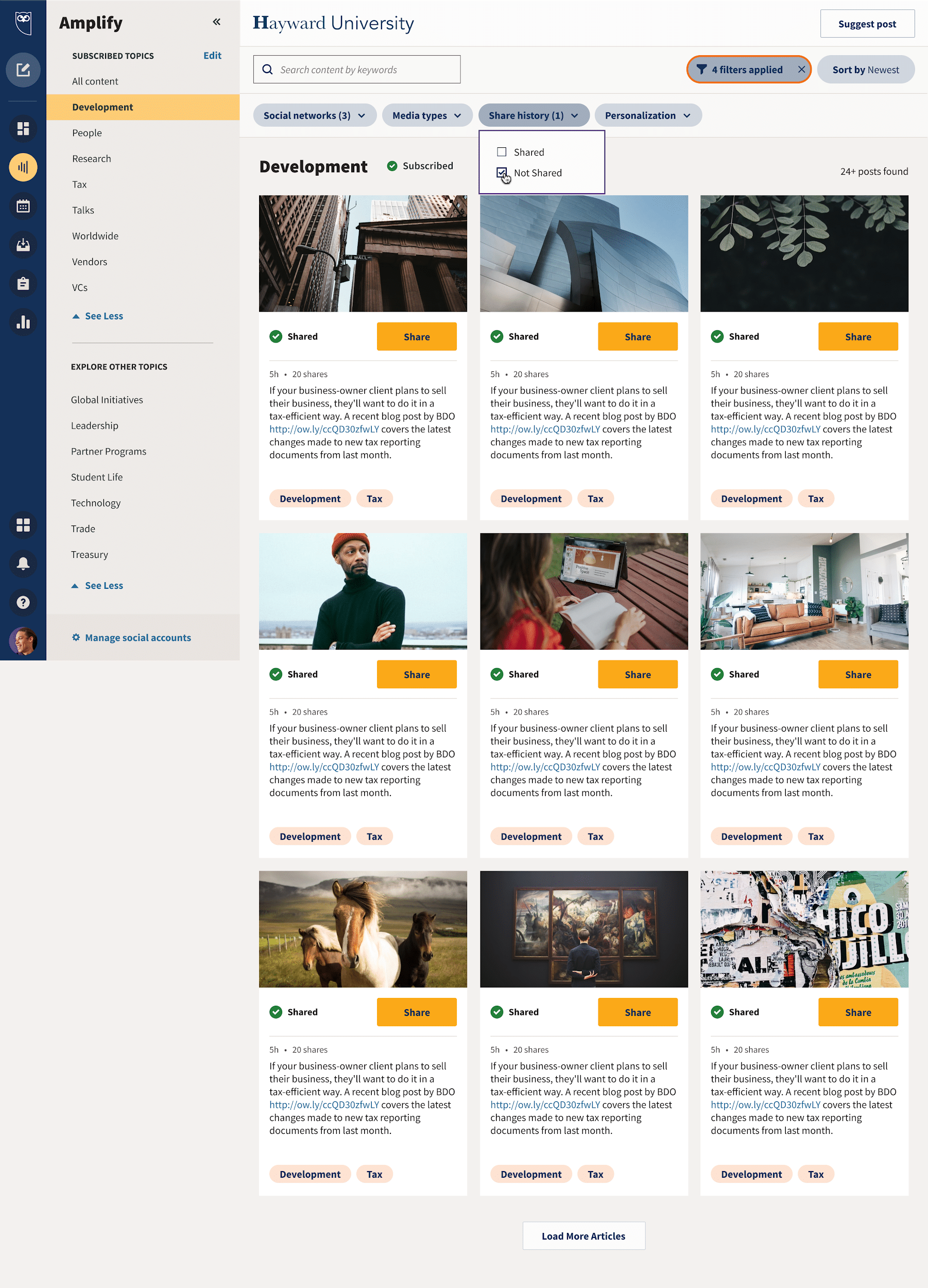 Source: Hootsuite
Social advocacy managers put a lot of work into helping their colleagues share content, whether it be through Amplify or our integrations with email and Workplace from Facebook. We've updated how those metrics are reported so now all Amplify activity can be tracked together, providing a full picture of how content is performing.
Extend your Hootsuite with ecosystem apps
We're proud to take a best-of-breed-approach at Hootsuite—and our customers love it, too. If you haven't already, check out our vast ecosystem of partners to build the toolset you need to accomplish your social media goals.
Two places you might want to start are with apps we're very excited about right now. The first is Google My Business, our most popular app, which has undergone some improvements to help you easily manage customer questions and reviews. Plus, look out for an update coming soon that enables direct messaging.
The second app, Shopview, will help many of our e-commerce customers. Shopview makes it possible to share products from your Shopify store to your social networks right from Hootsuite. View products in Hootsuite streams, share products to your social networks with images, filter products by collections and keywords, and reply to customers on Twitter.
These tools—as well as the others in our ecosystem—help you streamline your processes, access better data, and personalize your Hootsuite experience to meet unique business needs.
Access support more easily than ever
All these news apps and features wouldn't be complete without the foundation of good support. That's been a key focus for my teams these past few months and, as a result, we've made support content directly accessible from your Hootsuite dashboard. Now you can quickly find resources and answers to questions you might have as you're in the process of using the platform.
Find in-product support at the bottom of your left navigation, with assistance that suggests relevant content based on the product you're currently using. From there you can also access our Help Center, full of useful guides to common issues.
Find out more
That's a tour of some of our biggest releases this quarter, but there's always more. For the full story, I recommend watching our Q4 Product Roadmap webinar, and keeping an eye on our What's New page.
As well as building new features to ensure a reliable, secure, and evolved Hootsuite experience, we've also been focused on supporting our employees and our customers through this year of change. Don't forget to reach out to your Hootsuite account rep if there is anything we can do to help you succeed on social.
Try all these new features for free by signing up for a 30-day trial. With Hootsuite you can manage all your social profiles, schedule posts, measure results, and engage with customers all in one place.
The post New at Hootsuite: Instagram Enhancements, Inbox Updates & More Apps appeared first on Social Media Marketing & Management Dashboard.