Local Services ads bidding will be available to contractors and local service businesses via the Local Services platform beginning October 8, 2020.
This is big news in the digital marketing world since previously, Local Services leads came at a predetermined cost-per lead based on an advertiser's physical location and services offered. Bidding was not previously part of the Local Services algorithm or ranking factors.
According to a Google spokesperson, "After seeing success with auction-based pricing within our professional services vertical[s] for Local Services ads, we are excited to bring auction-based pricing as a beta to select markets for Local Services advertisers. We believe this model will help bring more customers to this trusted group of advertisers."
It's clear Google is making a play to draw more advertising revenue from local businesses while also increasing competition within the Local Services platform.
Local Services Ads Ranking Factors
Prior to bidding, Local Services relied on three key ranking factors to determine an advertiser's positioning in Local Services results:
Number of reviews and average review rating – Do you have a lot of reviews? What's your aggregate review rating (0-5)?
Responsiveness – Do you answer homeowners' calls when they contact you via Local Services?
Proximity to searchers – How close is your place of business to the person searching?
With the debut of Local Services bid types and an auction-based pricing model, Local Services ads will now include a fourth ranking factor:
Number of reviews and average review rating
Responsiveness (answered calls)
Proximity to searchers
Maximum bid
Types of Bidding Options for Local Services Ads
Based on the information provided by Google in an email to its home service advertisers, businesses will have two options to select from for their Local Services bidding options:
Setting a maximum bid per lead – This signals the maximum price advertisers are willing to pay for a lead, similar to max CPC (cost-per click) available in Google Ads. How much you actually pay, or the average cost-per lead, will be determined in an auction format between you and other advertisers.
Maximizing leads strategy – This automated bid type allows Google to manipulate your bid in order to drive the most leads from your preset weekly budget.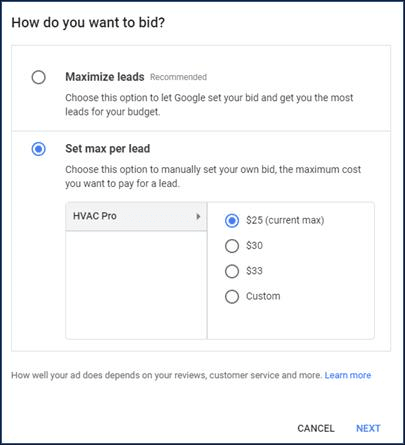 Setting a Maximum Bid Per Lead
Advertisers have the ability to change their maximum bid per lead beginning October 8, 2020. Local Services will default your account's maximum bid to the current price you pay for Local Services leads today—you aren't required to login to the platform and set up a new bid.
Maximizing Leads Strategy
This Local Services bid type is an automated strategy driven by Google. Historically, Google's automated bidding strategies across other paid search channels (Google Ads, YouTube, etc.) have not performed well, causing advertisers' cost-per lead to rise.
What Impact Will Local Services Bidding Have On Your Campaigns?
Many digital marketing experts (including our team) have predicted the shift to bidding for Local Services ads long ago, and that day has finally arrived.
At Blue Corona, we anticipate Google Guaranteed advertisers will have more control over their lead volume and cost-per lead from Local Services. It also gives advertisers who WANT to pay more for leads the ability to do so.
Blue Corona's Recommendations
We have an old saying here at Blue Corona: Track > Test > Tweak > Repeat.
What does that mean, exactly?
Don't go crazy and start upping your bids on Local Services ads without talking to your digital marketing partner first, or at the very least, testing a new strategy before going all in. Let your Local Services campaign data be your guide to future strategies on the platform.
Knee-jerk reactions to the change (e.g. – increasing your max bid per lead the morning of October 8th) is essentially the same as you giving Google permission to charge you more money for leads—leads you may have received anyways without increasing your maximum bid per lead.
Track – With the proper analytics tools in place, you'll know exactly how your Local Services ads performance has changed since the introduction of bidding and can compare it to its prior performance. Compare your cost-per lead from before and after October 8th and make adjustments that are aligned with your business' needs and goals.
Test – Test new bid types and maximum bid amounts to find the best strategy that works for your budget and keeps your team busy with booked appointments.
Tweak – Make adjustments to your bid types and maximum bid amounts until you've hit the sweet spot…an affordable cost-per lead and full schedule of appointments.
Repeat – Continually analyze your sales and marketing data and make regular adjustments to optimize your Local Services campaigns over time.
Keep Answering the Phone & Generating Reviews
Remember, responsiveness and reviews are still important ranking factors to increase leads from Local Services ads—don't ignore them. Keep encouraging your customers to leave you reviews and make sure you're answering your phone!
Need Help Managing Your Local Services Ads?
Blue Corona offers Google Local Services ad management services for home service businesses in the U.S. We've helped HVAC contractors, plumbers, electricians, roofers, and other local service businesses generate more leads and sales from their Local Services ad campaigns.
Contact us online to learn more about our Local Services management services.
Want to Learn More? Check Out Our Free Resources About Google's Local Services Ads!