"The only constant is change," Greek philosopher Heraclitus has famously said. We can't prove it, but we're pretty sure he was talking about Facebook updates.
Sometimes its changes delight (see: the introduction of Messenger). Sometimes they cause mass outrage (see: literally any time the interface is redesigned). But one thing's for sure: Facebook never rests on its laurels.
There's always something new in the works, which is to say there are always new opportunities for your brand to get ahead of its competitors.
It's why we'll be keeping this page updated regularly, spotlighting the most important Facebook updates each month. Be sure to check back often (and maybe even bookmark this page?).
Bonus: Download a free guide that teaches you how to turn Facebook traffic into sales in four simple steps using Hootsuite.
Top Facebook updates you need to know in 2020
August 2020 Facebook updates
Online events
Obviously, in a pandemic, the usefulness of Facebook's Events feature has dwindled. Even if you have an amazing poop-emoji-themed birthday planned for your child, it's not exactly a great time to get together.
So Facebook has smartly pivoted its Events pages to help businesses host online events… and even make money in the process.
Business owners will be able to set a ticket price, promote their online event, collect payments, and host a digital event, all on one page. Trial paid events so far have included trivia, meet-and-greets, fitness courses, and lectures. No disgusting/cute birthday parties that we know of.
At this point, Facebook won't be collecting fees for any tickets sold on web or Android devices—which should strike fear into the heart of all other ticketing and event platforms. We're looking at you, Eventbrite.)
The social media platform is, however, in a bit of a tussle with Apple's App Store over tickets sold via the iOS app. For purchases made from an iPhone app, businesses will only be able to collect 70 percent of their ticket sales due to Apple's 30 percent App Store tax. If we may editorialize for a second: ouch.
The new feature launched in 20 countries to start. Check if you qualify for access here. Or, read more about Facebook's launch of paid online events for small business recovery here.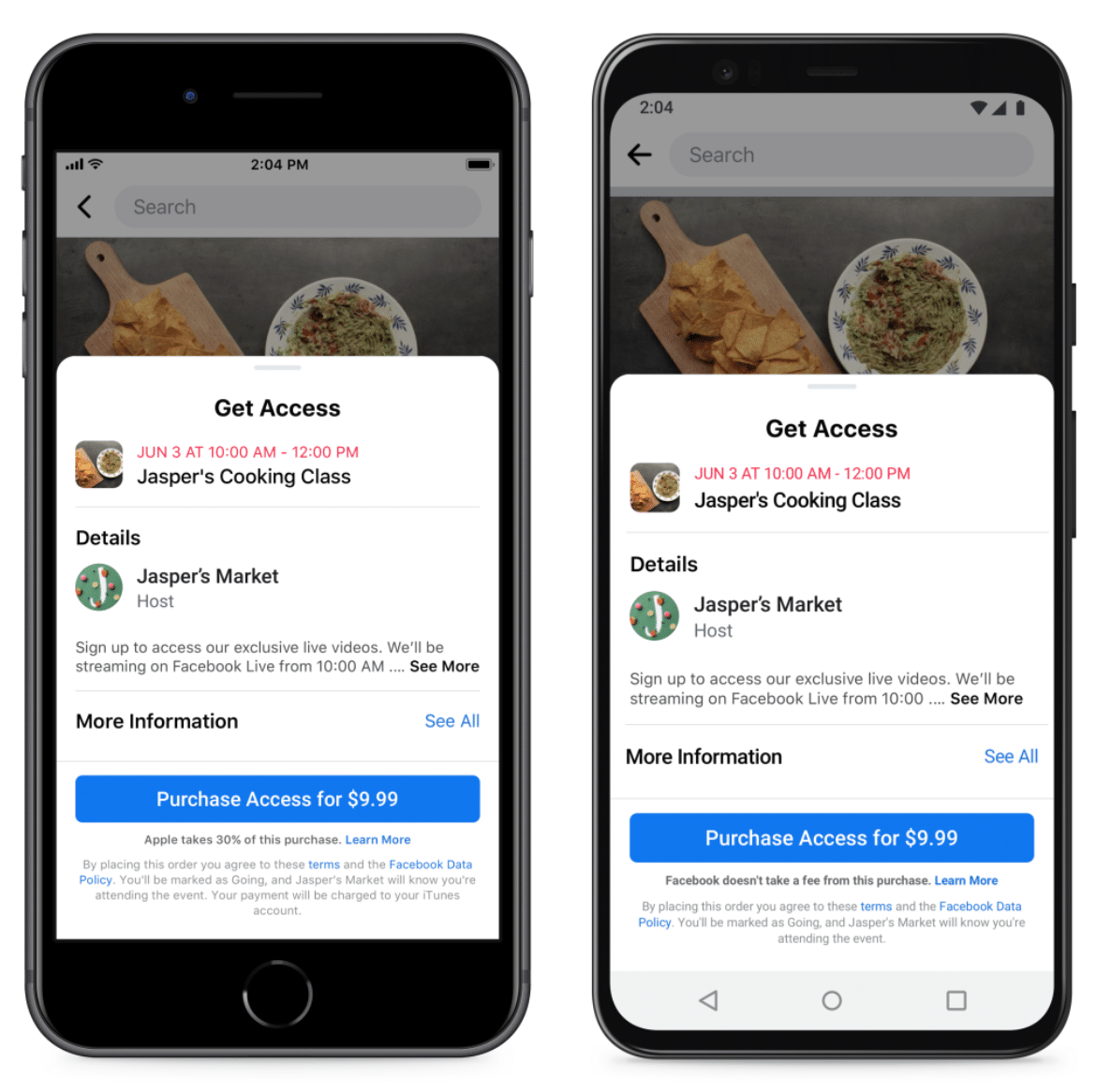 Source: Facebook
Diverse-owned business categories for Facebook business pages
Facebook dropped a $100 million in grants in support of Black-owned non-profits, businesses, and creators earlier this summer. Now, the commitment to lifting up Black voices continues with new Diverse Business labels for Business Pages.
This self-applied label allows a Business Page to identify itself as Black-owned (among other diversity categories), so that users can easily find them using the Businesses Nearby feature.
To be considered a diverse business, your company must be at least 51% owned, operated and controlled by one or more people from a designated diversity category. (In addition to the "Black-owned" tag, you can choose a variety of other ethnicities, as well as women-owned, veteren-owned, LGBTQ-owned, or disability-owned.)
This designation won't appear on a business' Facebook Page, or be associated with the Admin. Page Admins can skip this optional tag, or edit or remove diversity information at any time.
The Diversity Categories feature will be gradually rolled out, so if you don't see it on your Page settings yet, keep checking back. While you wait, why not apply to put some of Facebook's money to good use?
More info on diverse business categories can be found here.
Source: Facebook
Facebook Portal announces new home conferencing apps coming soon
Facebook's video call tablet, Portal, achieved new relevance in the COVID-19 era as people have been anxious to see family and friends from afar. Watching my nephew use the cowboy filter is basically my new favorite TV show, honestly.
Then, with the introduction of Workplace for Portal a few months back, the tool aimed to help the business community, too, facilitating meetings, live streams, and remote one-on-ones.
Now, to build on Portal's new corporate applications, Facebook's adding a suite of business-oriented video conferencing apps. These apps include Webex, Zoom, BlueJeans, and GoToMeeting. They'll be available on Portal, Portal Mini, and Portal+ in the coming weeks. (Portal TV is planned for the future.)
For apps with whiteboard applications (like Zoom and BlueJeans), you'll even be able to draw right on the Portal screen with your finger. None appear to involve adorable cowboy filters at this point, unfortunately.
More info about Portal's latest updates can be found here.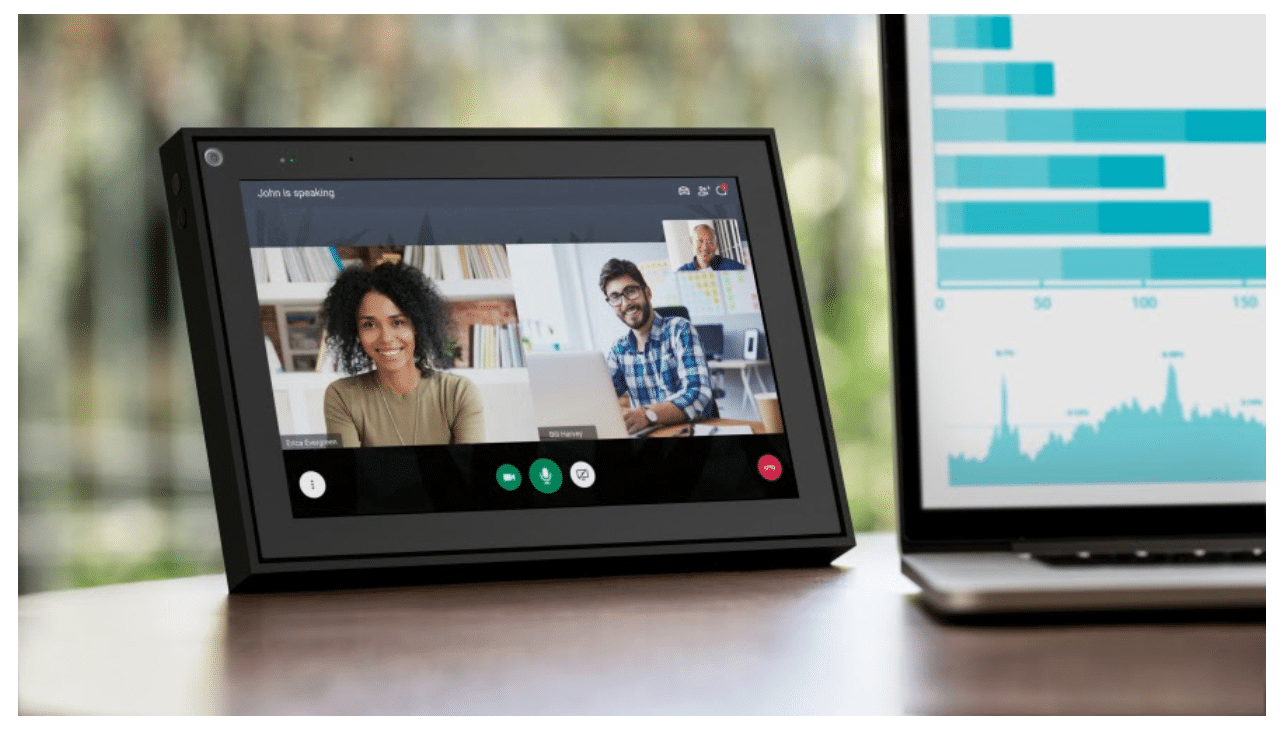 Source: Facebook
Facebook Messenger is taking over Instagram's Direct messages
The day the Facebook oracle foretold is coming: the great messaging merge is here.
Facebook announced its plans last year to combine WhatsApp, Facebook Messenger, and Instagram Direct messages to use the same platform. This month, Facebook is starting that transition, with Messenger taking over Instagram's private messaging tool for some users.
With this change, the icon on Instagram for direct messages will now be that of FB Messenger. The merger will allow for cross-communication between Instagram and Facebook users, and allow for emoji reactions and swipe-to-reply abilities.
No word on when WhatsApp will join this messaging super-service, but when it happens, we'll see a 3.3 billion user network under one umbrella. It's an opportunity for one hell of a group chat.
Music videos come to Facebook
In the U.S., you'll now find a "Music" button on Facebook Watch. This is where official music videos will live on Facebook going forward—basically MTV 2.0.
The platform has big plans for some global music video premieres. In the next few weeks, artists that I have never heard of (Calibre 50? J. Balvin? I'm sure they're very nice) will be dropping exclusive premieres on the social platform.
On Facebook Watch, you can explore videos by genre, artist, or even mood (what do they recommend for "Hungry"?). Themed playlists will be available as well.
Some artists are planning Facebook Live events in the lead up to dropping their videos, and sharing countdown and music stickers in Stories and fan Groups. Artist Pages will now feature links to these official music videos as well.
Similar to other video content on Facebook, users will be able to comment on, react to, and share across the site. To start, maybe share your favourite J. Balvin song with me so I can catch up with the rest of the world.
Read the full press release for Facebook music videos here.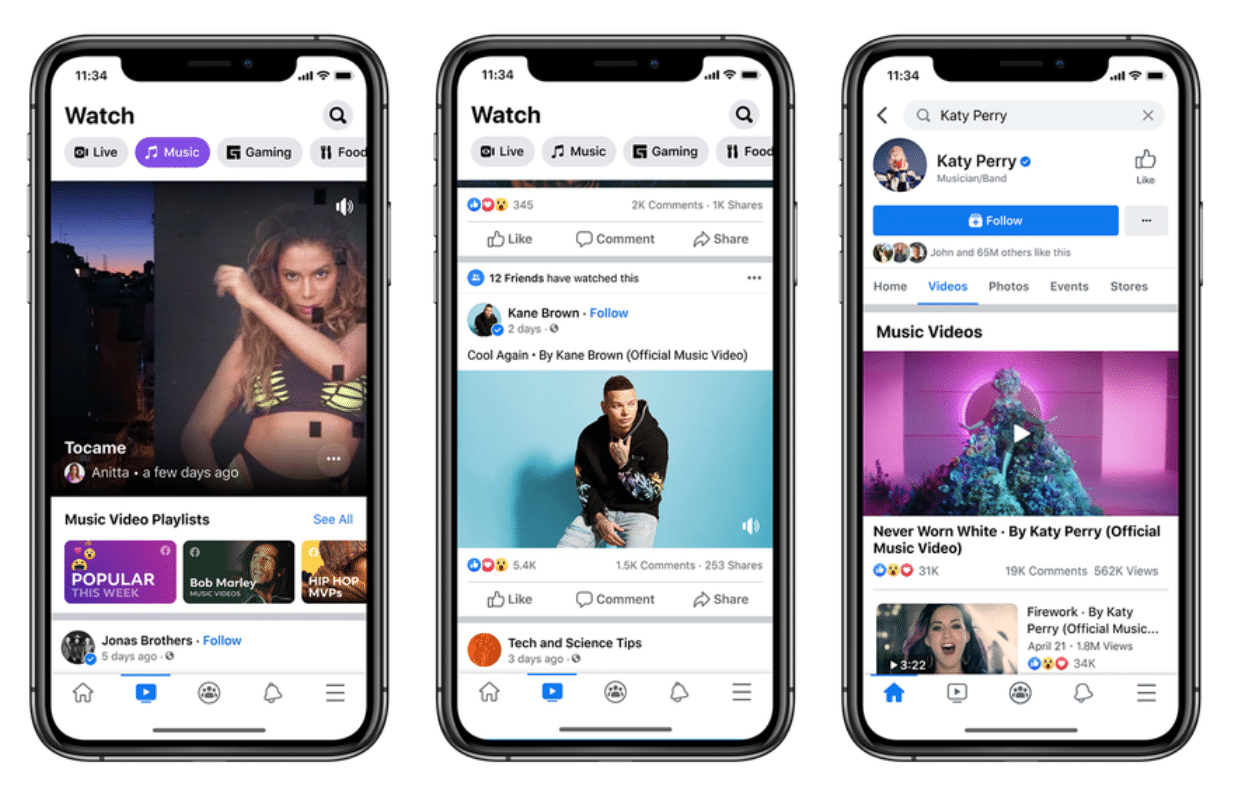 Source: Facebook
Facebook launches its U.S. 2020 Voting Information Center
Facebook has set an admirable goal of helping get four million voters registered for this year's U.S. election. Naturally, they're using their own platform as a starting point.
The 2020 U.S. Election Voting Information Center will provide up-to-date information and official government resources to help Americans prepare for the Presidential Election this November. It's available on Facebook, Instagram, and Messenger.
Facebook's press release called the non-partisan Center a "one-stop-shop" for registering to vote. It also includes a tool for users to sign up as poll workers.
A complementary new feature is Facebook's Voting Alert, which will help both state and local election authorities reach voters with updates as we get closer to election day. (Only government pages are eligible for this system.)
All that being said: why wait for Facebook to remind you to register when you could just do it now and embrace your democratic rights? Go go go go!
Read more about Facebook's Voting Information Center here.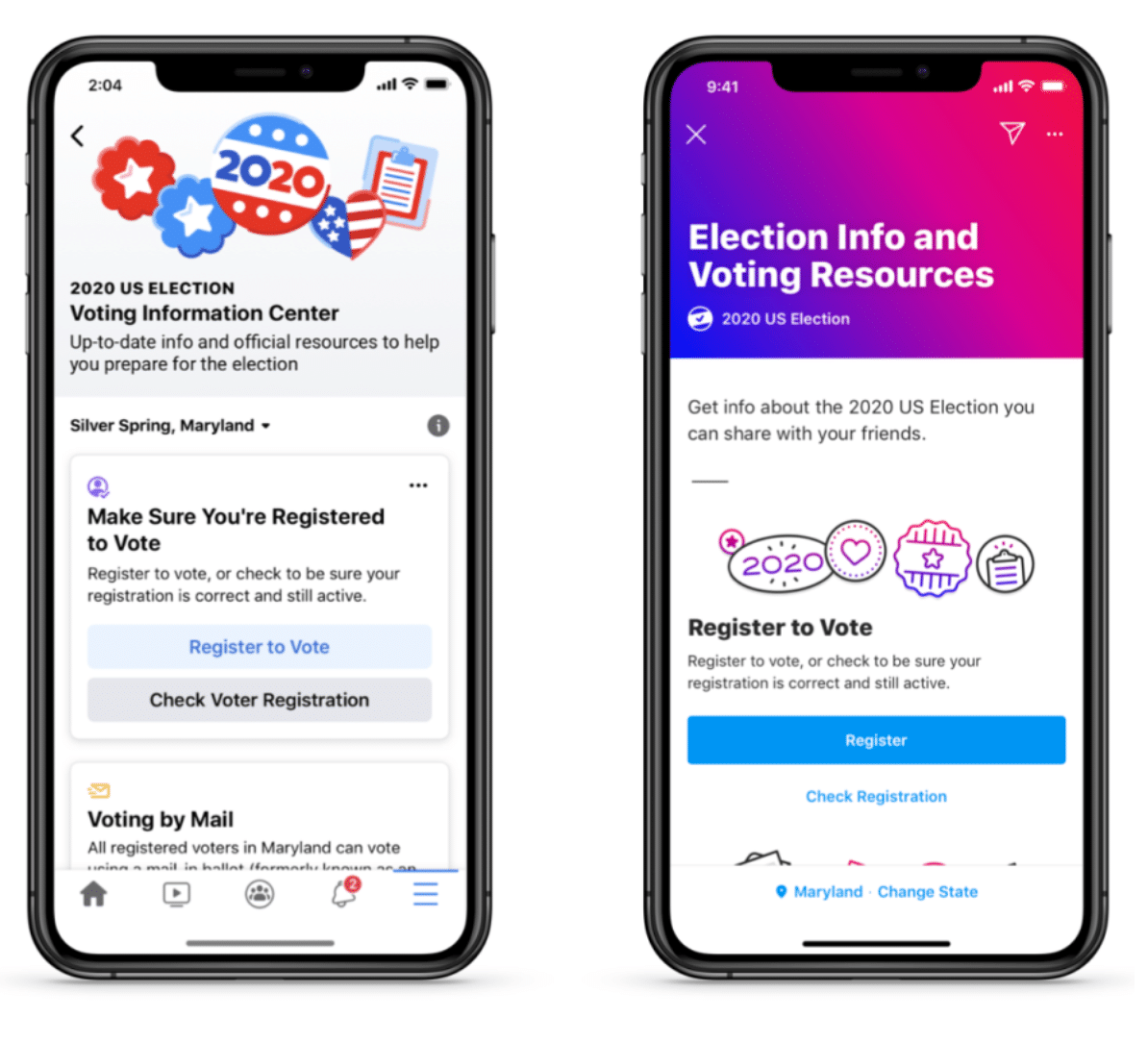 Source: Facebook
Redesigned Facebook Ad Preferences rolling out
A redesign for Facebook's Ad Preferences settings is rolling out over the next few months.
Split into three tabs—Advertisers, Ad Topics, and Data—the revamped Preferences will offer increased transparency and control. It will also offer a reminder that the internet is watching everything you do and knows all-too-well that you love both "hip hop music" and "shorts."
Users can change what information is shared with advertisers, or which advertisers they'd prefer to hide all together, as you can see in this Tweet from Facebook's Director of Product Management.
Over the next few months, we'll be rolling out a redesigned Ad Preferences. None of the transparency and controls are going away, but now it'll be easier to navigate. It'll be split into 3 tabs: Advertisers, Ad Topics and Data (1/2) pic.twitter.com/3h0vWsft7M

— Rob Leathern (@robleathern) August 18, 2020
July 2020 Facebook updates
Taking action with anti-hate measures
Responding to feedback from the civil rights community, Facebook is making changes to policy and communications to reflect more transparent—and hopefully more just—systems.
As part of this, Facebook has participated in a civil rights audit and released a Diversity Report.
They've also expanded their voter suppression policies so that any ads interfering or intimidating voters will be prohibited, and launched a robust census interference policy.
Facebook also is promising to go "above and beyond" existing hate speech protections with more specific anti-hate ad bans.
Check out the full scope of Facebook's ongoing anti-hate measures here.
Expanded markets for Instagram Shop and Facebook Pay launch
On the heels of May's Facebook Shops launch, businesses in supported markets (check out the full list here) can now sell products directly through Instagram with Instagram Shop.
Integrate your pre-existing e-commerce platform, or create a catalog within Facebook Business Manager. Once you've got your products connected to your Insta account, submit your shop for review and await the thumbs up.
When you've enabled the shopping feature, you can use Shopping Tags or stickers to spotlight your goods in your feed or Stories. Let the shopping sprees begin.
Find full details on setting up your shop here.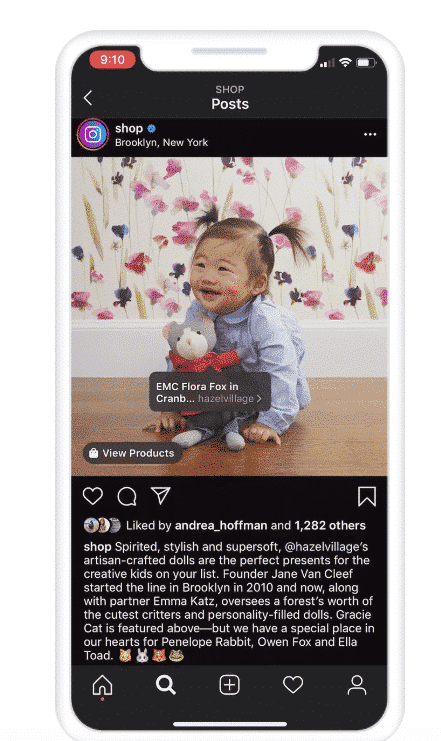 Source: Facebook
New emoji upgrades in Messenger
In honor of World Emoji Day (July 17), Messenger gave its default sticker pack (Moodies) a makeover.
The little faces you know and love—the cool one, the barfing one, the whole gang—have a sleek new look and bubbly animated flourishes.
Is it a big update? No. But it's a cute one.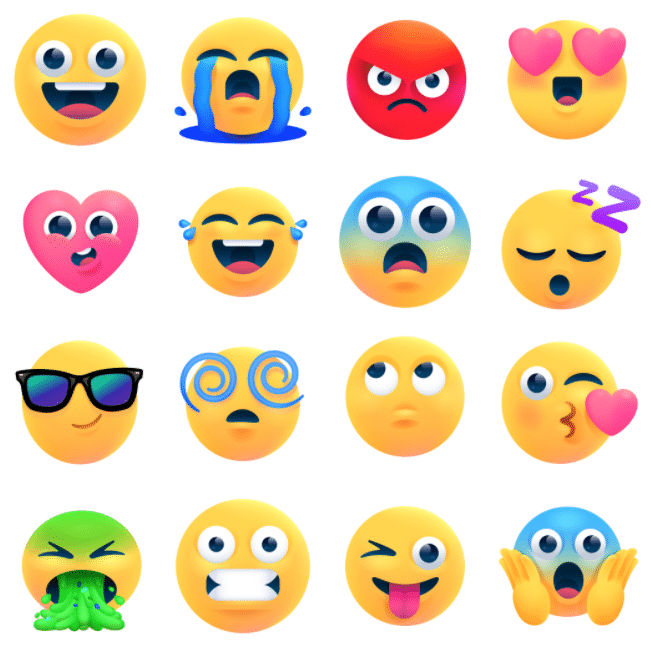 Source: Facebook
App Lock for Facebook Messenger
To keep your group chats safe and secure, Facebook is rolling out the option to add another layer of security with fingerprint or face authentication via App Lock.
Even when your phone itself is unlocked, when App Lock is on, Messenger appears illegible—with sort of a frosty overlay—until you use your face or fingerprint to unlock.
This offers a level of confidence that when your brother is scrolling through your phone to pick a sweet road trip song, he won't get a glimpse of the messages your sister sent you complaining about him.
It's a feature that's available now for iOS users and should be coming to Android this fall.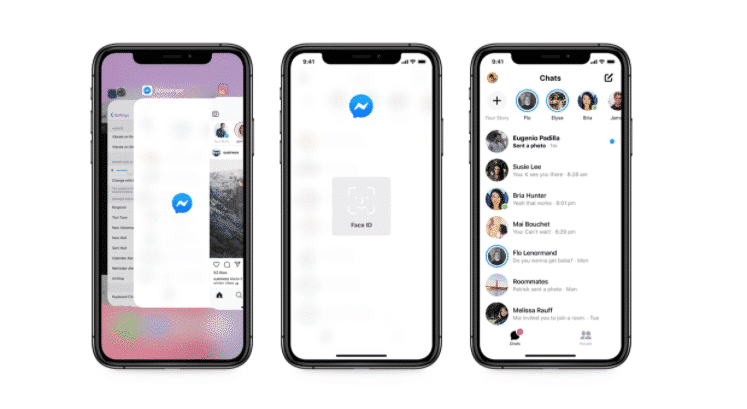 Source: Facebook
Screen sharing now available in Messenger mobile app
In a time of social distancing, we've never been more grateful for technology to keep us closer—and with so many video chat apps available at our fingertips right now, everyone is racing to offer the best ways to connect.
It's why Facebook has just added a "Share Your Screen" option to its Messenger mobile and web apps.
Now, formally side-by-side activities can be translated to the screen as you keep chatting. Browse an online store together, scroll through recipe options, or look back on travel photos from those glory days when we could, you know, leave the house.
Screen sharing is available with the latest update of the app.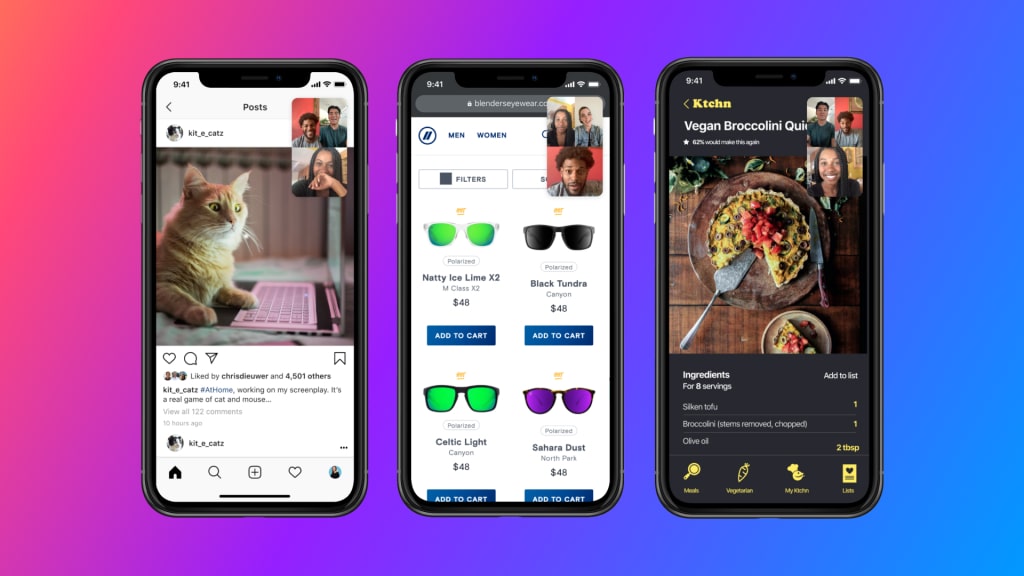 Source: Facebook
Choose your layout for posts with multiple images
Next time you upload a batch of photos, you might be given the option to choose their layout, as Facebook slowly rolls out new photo post options.
The platform has been testing this visual tool since October, but it looks like this new composer functionality is being unrolled en masse at this point.
That being said, it doesn't appear to have popped up for Pages users (yet!), so you might have to save your layout creativity for your personal account for now.
Facebook will soon give you layout options when posting multiple images pic.twitter.com/8K23afZ9bp

— Matt Navarra (@MattNavarra) July 14, 2020
Create custom audiences out of interested or previous customers
In Facebook's Ad Manager, you can now target ads specifically to people who have perused or shopped your products.
Click on the "Custom Audience" option and you'll now see a "Shopping" category. Under this, you'll find people who viewed your products, people who added products to their basket, or people who made a purchase.
With this info in hand, you can target the audience of shoppers who are most likely to follow through or return to your page and ramp up that engagement.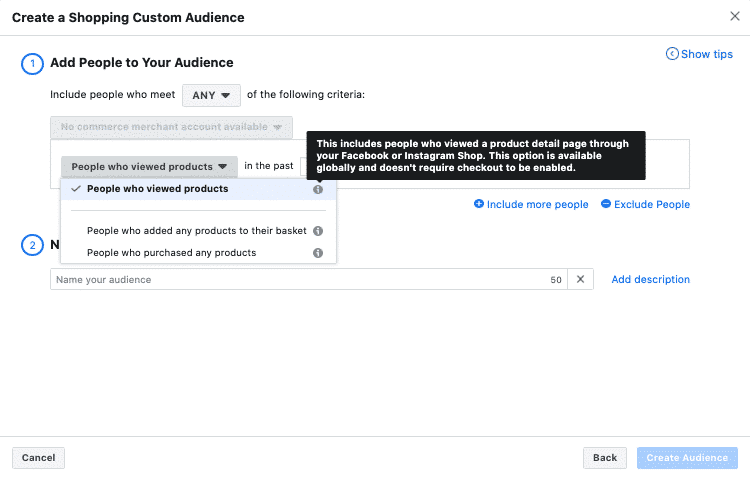 Source: Facebook
Make live-broadcast video calls with up to 50 participants
Got a group video call you want the world to see? Facebook's on the case. By combining its Messenger Rooms video chat capabilities with its live stream services, users can now broadcast video calls with up to 50 participants.
Think of it as a combo of video chats and live streams, and it's clear the possibilities for a brand are pretty intriguing. It could mean interesting opportunities for TV show reunions, networking, live interactive tutorials or courses, and beyond.
These calls can be broadcast from an individual profile, on a Facebook Page, or within a Group. The creator of the call can admit or block participants, or lock calls all together.
Zoom's already shaking in its boots: when Messenger Rooms was launched in April, stocks fell by 5%, so who knows what this expanded capability might do to the video conferencing brand.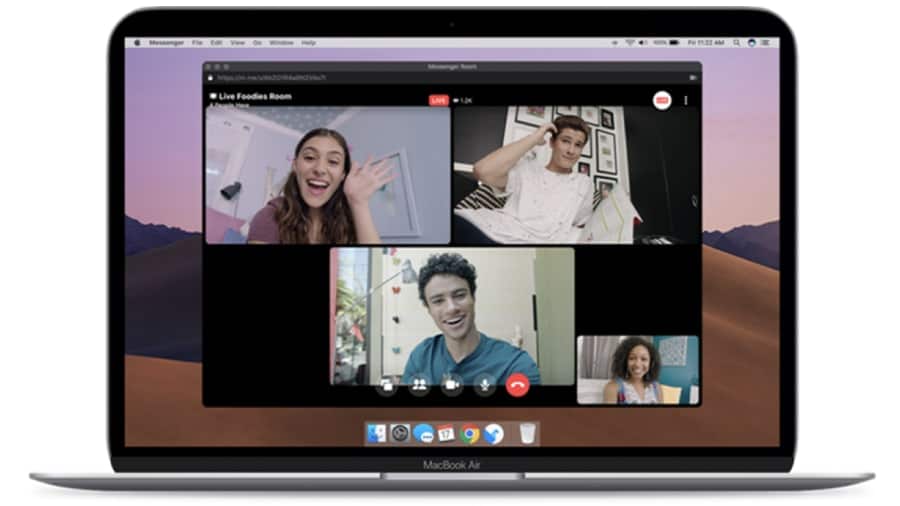 Source: Facebook
June 2020 Facebook updates
Financial support for gamers
In an attempt to lure gamers over from Twitch and Youtube, Facebook is expanding its streaming subscription options.
Fans can now support gamers with tips and donations as they live stream, and gamers can access in-stream ad breaks as well. These ads can be pre-roll, mid-roll, or an image below the stream.
Any streamers who see at least 250 regular weekly viewers will be able to register with the Level Up program to access these features (and the sweet paydays that come with them).
Learn more about these fan subscriptions and Level Up here.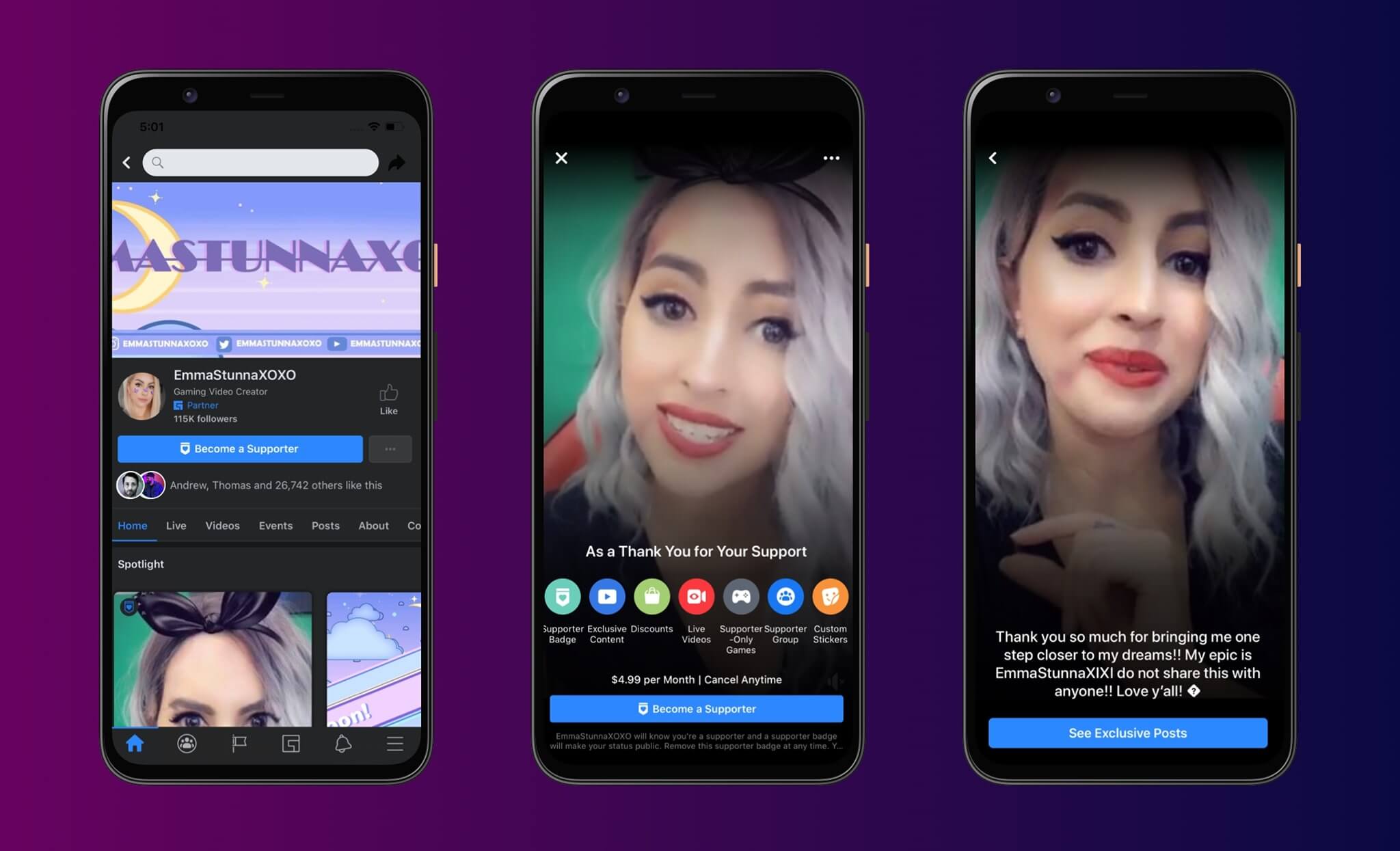 Source: Facebook
Facebook Collections are now sharable (in the U.S., at least)
The Collections feature on Facebook allows users to archive links, photos, pages, and posts for accessing later. This month, Facebook announced a new sharing functionality that allows those lists to be made public… which might just offer some interesting opportunities for business partnerships. (Though unfortunately, it's a feature that's only available in the U.S. market right now.)
Look out, Pinterest. Influencers could build sponsored lists to share with followers ("My Favourite Mexico City Restaurants") or companies could share on-brand content (like "Best Cocktail Recipes" for a vodka company).
Maybe our first list should be a list of how handy lists will be?
New – .@facebook shared #facebookcollections. Can share links, photos, posts, etc., which can be 'followed'. #curatedcontent pic.twitter.com/Oah4eXW9dz

— whimchic (@whimchic) June 13, 2020
Privacy setting makes CCPA compliance much easier
Any business selling to California-based customers is probably already aware of the California Consumer Privacy Act (CPPA), which grants residents the right to control their personal data.
Facebook's new "Limited Data Use" feature makes compliance with the CPPA fairly easy. Enabling this feature allows businesses sending data to Facebook to limit how Facebook actually uses that data.
Once it's applied, Facebook will technically act as a business's service provider while processing information about California customers, keeping in line with the state's unique privacy laws—and keeping both your business and consumer data safe.
New email marketing tools now available for small businesses
A small number of small businesses are testing out Facebook's new email marketing tools.
If you're one of the lucky few plucked from obscurity to be an FB guinea pig, you'll be able to send group emails and track performance, all within the Facebook platform.
Upload subscribers' contact information (with permission, of course) and then tweak your audience demographics and customize your design.
If the test runs prove to be helpful to businesses, we might see the option rolled out further… but with so many other marketing email solutions out there, it's not certain this tool will stand the test of time.
Send marketing emails from your page? What new sorcery is this Facebook?!

Have you seen this new feature where we can now send emails directly from Facebook? This is definitely new to me and only available on one account so far. pic.twitter.com/aSIkSx1uDo

— Meg Coffey (@TexanMeg) June 1, 2020
Facebook to warn if an article is over 90 days old
In another attempt to combat fake or out-of-date news, Facebook has announced a new pop-up feature to alert users if a story is over three months old.
The goal is to highlight the timeliness (or rather, the lack thereof) of news sources to try to tamp down on out-of-context stories that might muddy the understanding of current events.
The context button Facebook added in 2018 might not have done much to quell the spread of hoaxes, but here's hoping this addition has an impact.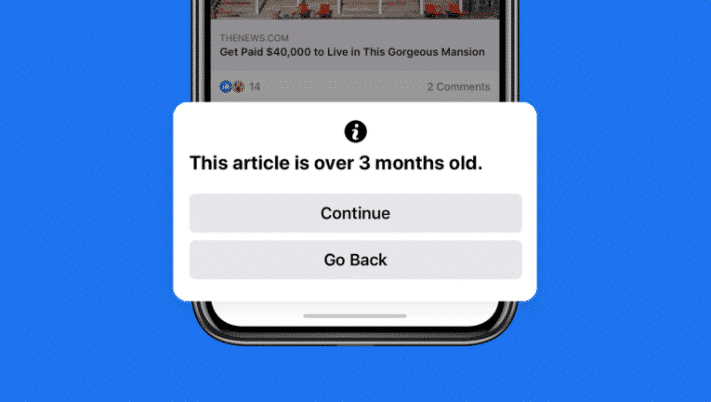 Source: Facebook
May 2020 Facebook updates
Facebook launches mobile-friendly native shops
This may not be the first swing Facebook has made at in-platform shopping, but Facebook Shops is definitely the best yet.
Like previous iterations, you can upload product pictures and descriptions into your digital boutique, but now users can convert and checkout right in the app.
With Facebook Shops, you'll be able to chat with customers via WhatsApp, Messenger or Instagram Direct messaging to offer support or personal shopping guidance.
Plus, businesses can customize the look of e-shops with on-brand fonts and colors. Fancy!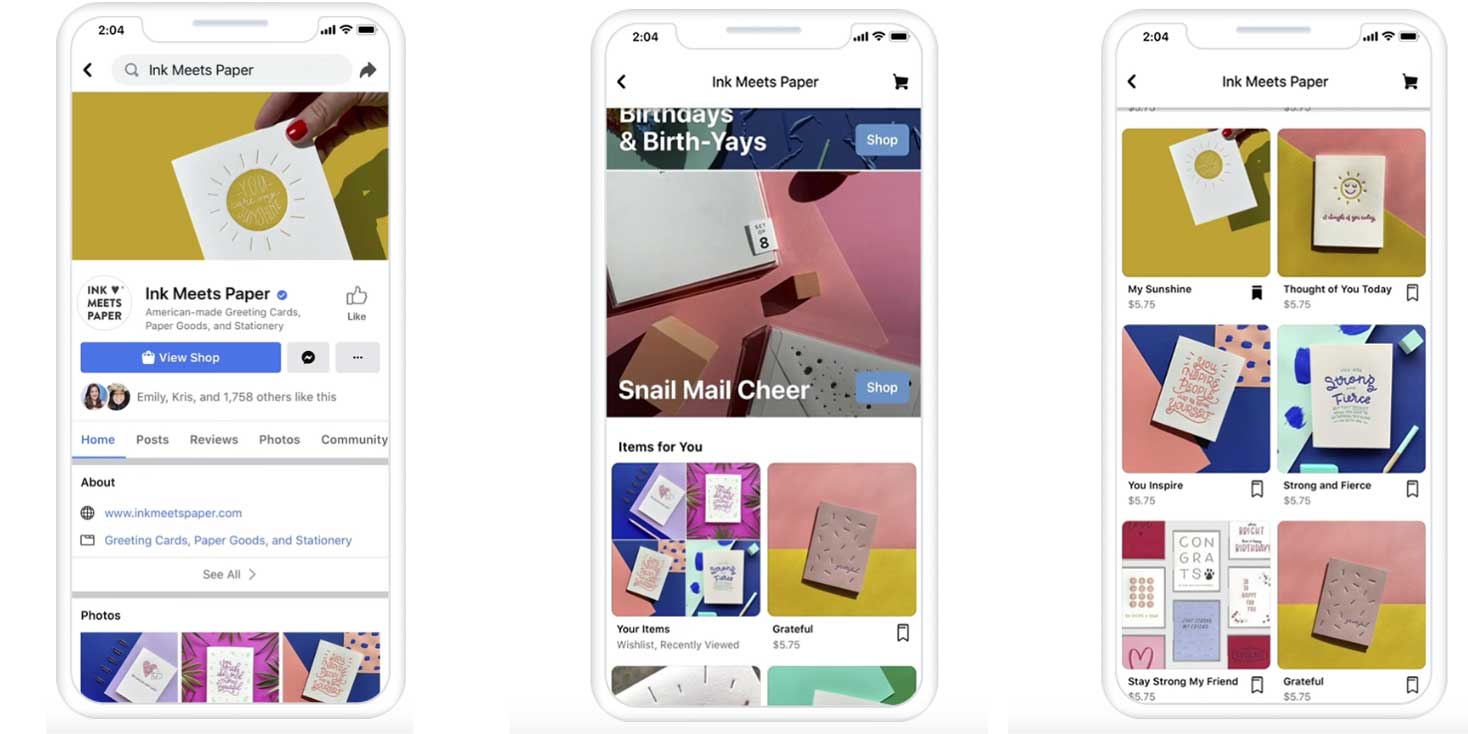 Source: Facebook
Group chat app "CatchUp" launches for group calls
In a time where staying connected is tougher than ever, CatchUp aims to help bridge the distance. Think of it as a voice-only version of Messenger Rooms, facilitating one-on-one or group calls up to eight people.
Unlike other group chat apps, CatchUp flags when users are available and "Ready to Talk" (similar to HouseParty). It's an attempt to overcome people's key hesitation with the old-fashioned phone call: you don't want to interrupt.
Facebook will be testing the app in the U.S. for a limited time. We'll have to see if it sticks around.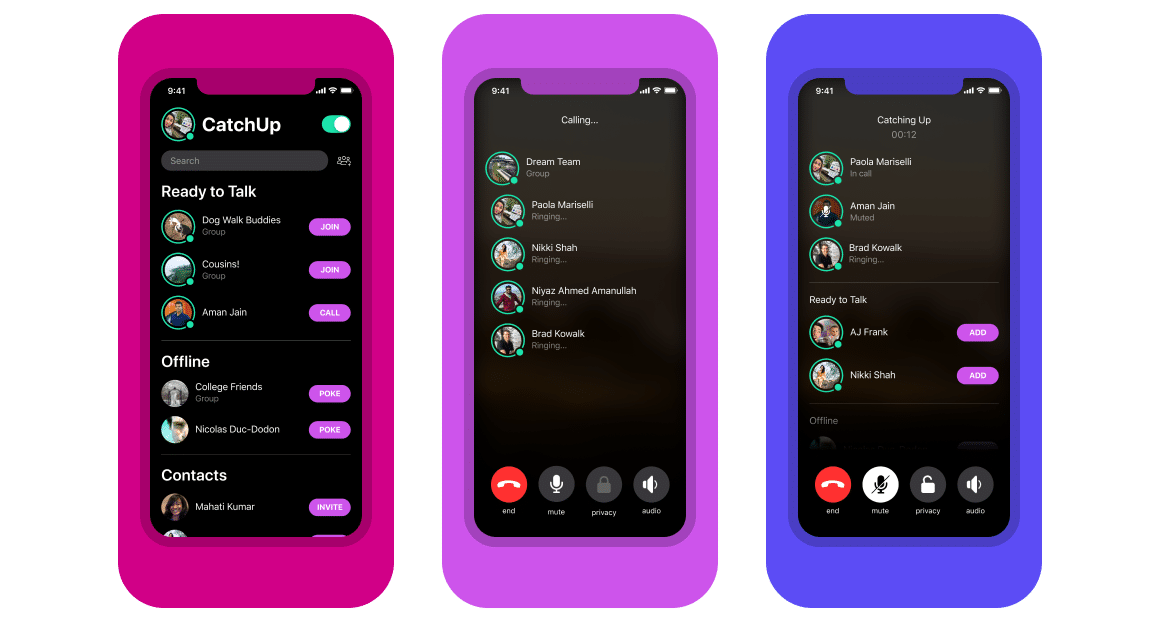 Source: Facebook
April 2020 Facebook updates
Ads Manager status tool introduced to track outages
With the addition of a new ads status page, ad buyers can track if the platform itself is experiencing any issues.
Here, any major changes to the key tracking metrics will be reported as well (from impressions to amount spent to reach) so you can be in the loop about every little tweak.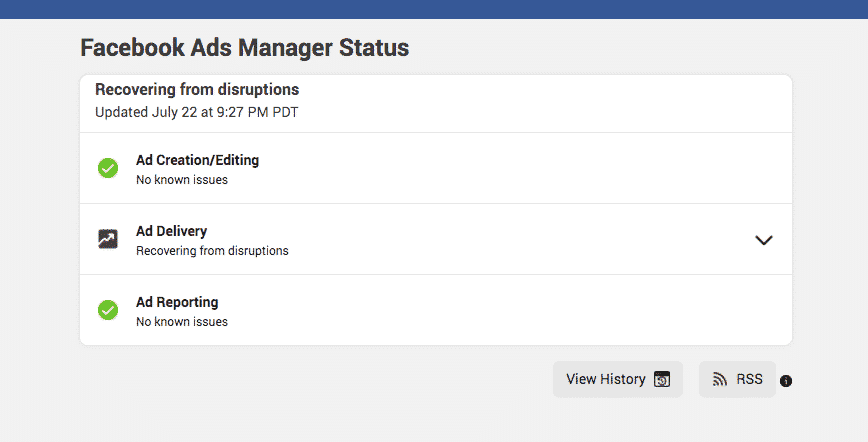 Source: Facebook
The ad reporting tool gets an update, too
Facebook announced updates to a variety of ad reporting tools—all the better for brands to measure campaign performance.
Access cross-account reporting, custom metrics and conversion paths to see just how your campaign is doing in graphic detail like never before.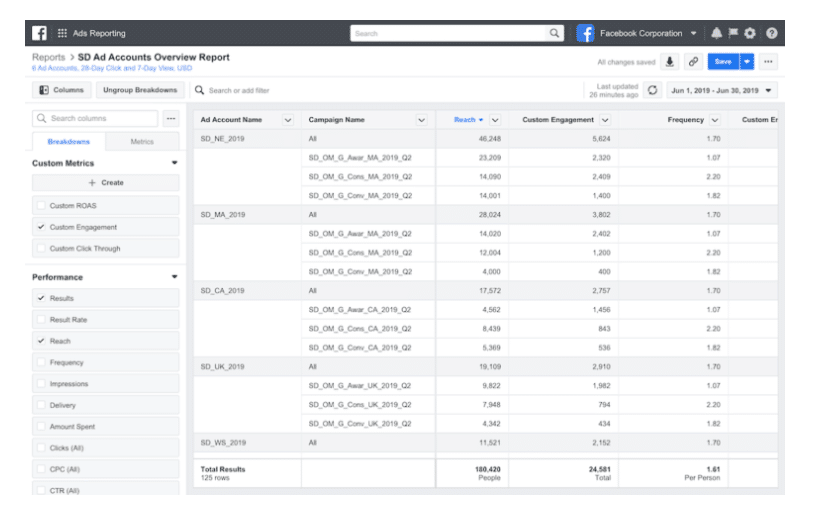 Source: Facebook
Messenger comes to the desktop
If chatting in the browser or mobile app aren't convenient options for you, the new Facebook Messenger desktop app will allow for group chats and videos right on your computer desktop—no Facebook account is even required.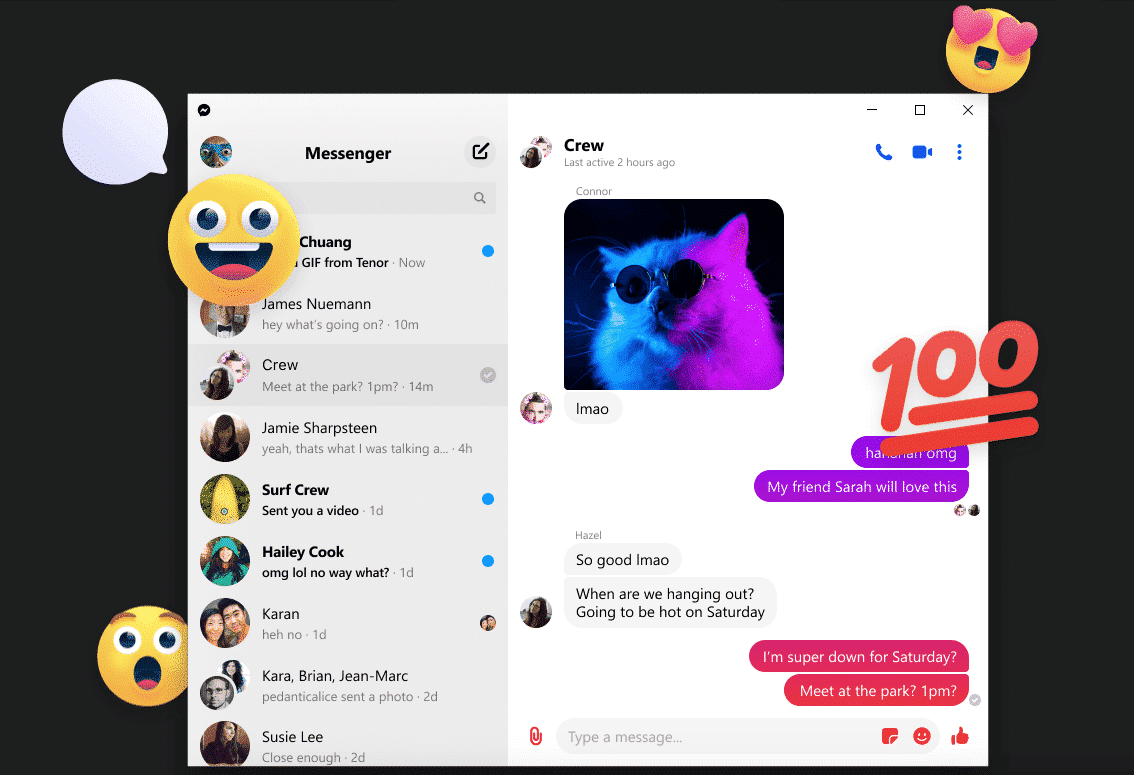 Source: Facebook
"Quiet Mode" introduced
The recent roll out of Quiet Mode on both browser and mobile allows the option to silence all notifications in one fell swoop, similar to iOS's "Do Not Disturb" functionality.
Keep the dings and pings to a minimum so you can actually get some work done.
Improved accessibility for live streaming
While video live streams have certainly been popular on Facebook, the real-time broadcasting format did create a barrier for entry to those who rely on screen readers or have an auditory disability.
To combat this problem, Facebook announced the release of a new audio-only live mode with the option for automatic captioned.
Automatic captions aren't always perfect, but it's better than nothing, and hopefully will allow hearing-impared users to follow along with your content.
March 2020 Facebook updates
New Facebook rolls out worldwide
While the new Facebook redesign—the fifth major one in the platform's history—rolled out to mobile users in late 2019, we're finally getting a chance to see it on desktops this month.
There are big aesthetic changes here: the modern layout is a cleaner, more minimalist design, and features the ability to switch between all-white and dark mode.
The interface gets a makeover with this redesign as well, favoring activities from Groups and Events over News Feed content. The Groups Tab has also been redesigned to make it easier to find new groups to join.
Additional features will benefit specific communities: a new Chat option for gaming groups, for example, or improved interactions with Facebook Live.
Bonus: Download a free guide that teaches you how to turn Facebook traffic into sales in four simple steps using Hootsuite.
To get the New Facebook design on your desktop, just select "Switch to New Facebook" from the Settings drop-down menu. And if you don't already have it on mobile, just update your app.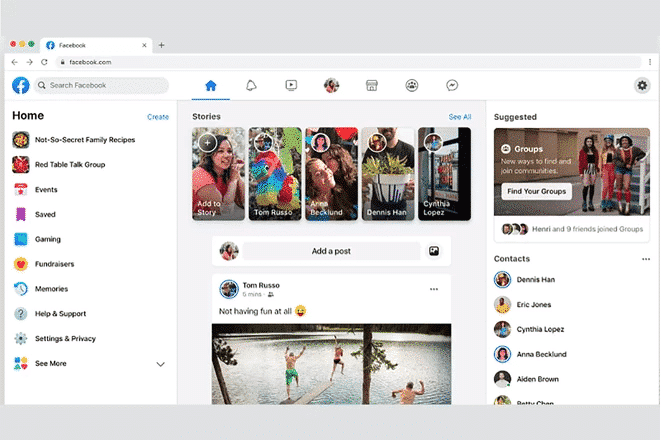 Source: Facebook
COVID-19 delays ad review
An announcement this month from Facebook revealed that reduced staffing and changes to the moderation process might create errors or delays in the review process for ads.
The platform also has banned any advertising or e-commerce product posts that attempt to use fear of the virus to drive sales. No magic cures for sale here.
Along with discouraging ad campaigns, Facebook is also testing out tools to reduce the spread of misinformation about COVID-19 on WhatsApp and Messenger. If a rumor about a miracle drug pops up in your chat, you'll also be prompted to fact-check and confirm your sources.
New "Mood" frames come to Facebook Stories
Rep those feelings with the new Mood feature on FB Stories, which harnesses the power of GIFs for self-expression.
Change the frame and background color to further personalize what Michelle eating her bodyweight in spaghetti on Full House really means to you.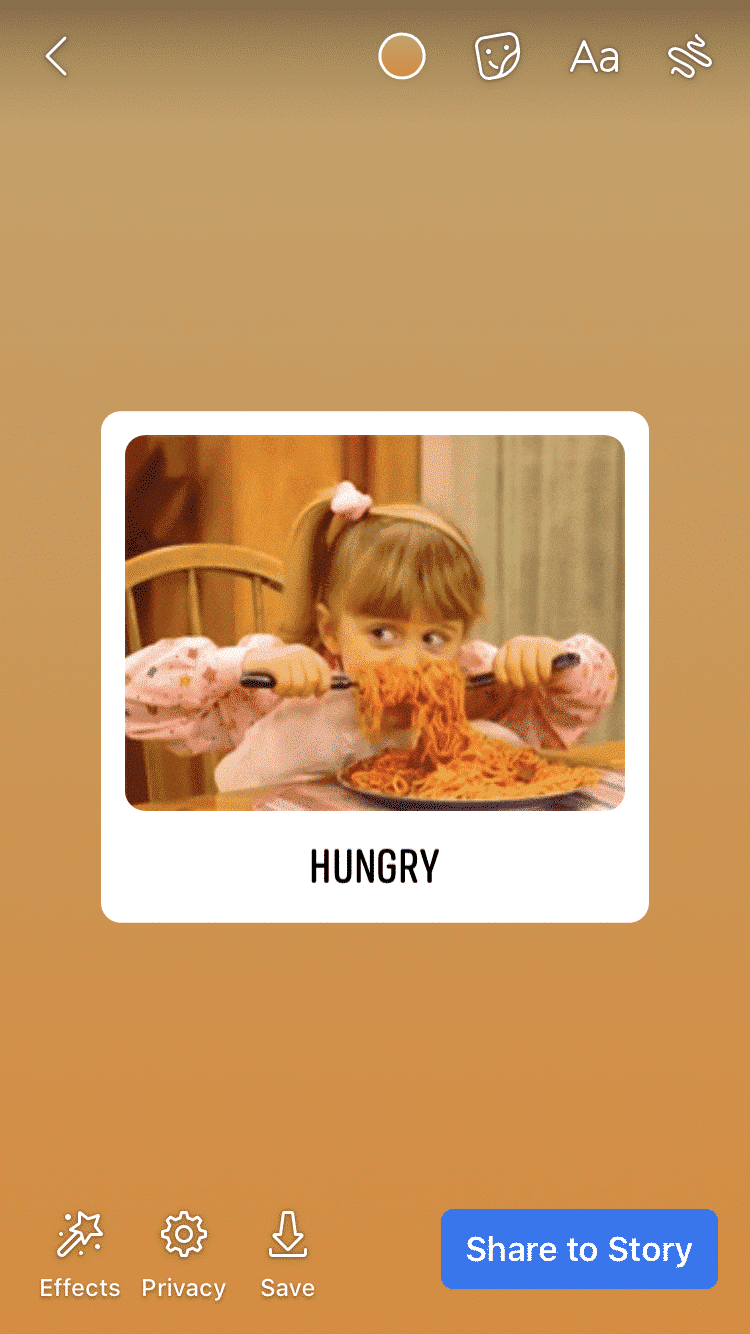 Source: Facebook app screenshot
Express yourself with customized avatar stickers
Following in the footsteps of their Bitmoji forefathers, Facebook is now introducing personalized humanoid stickers for use in comments, Messenger, Stories and posts.
Options to customize hairstyles, outfits, skin tones and accessories offer a wide range of representation, from headscarf to side-buzz.
Here's how to make yours on the Facebook mobile app:
Tap the three line menu

Scroll down and select "See More"
Choose "Avatar" and follow the prompts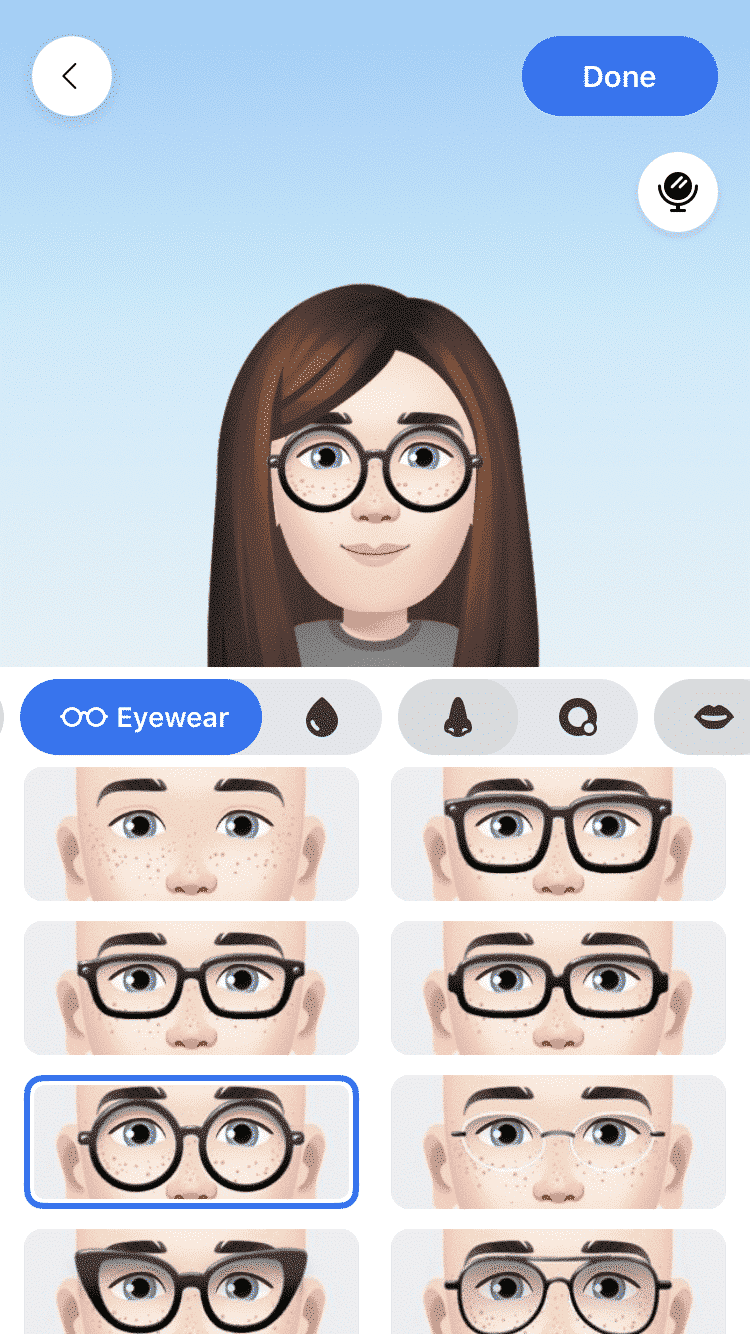 Source: Facebook app screenshot
Convert photos into 3D images
Any 2D picture can be transformed into a 3D masterpiece with Facebook's latest photo tool. The technology simulates depth within a regular photo to allow users to "tilt," much like a 360-degree image.
It's an opportunity to make a boring old product photo pop, and grab attention on the newsfeed—no 3D glasses required!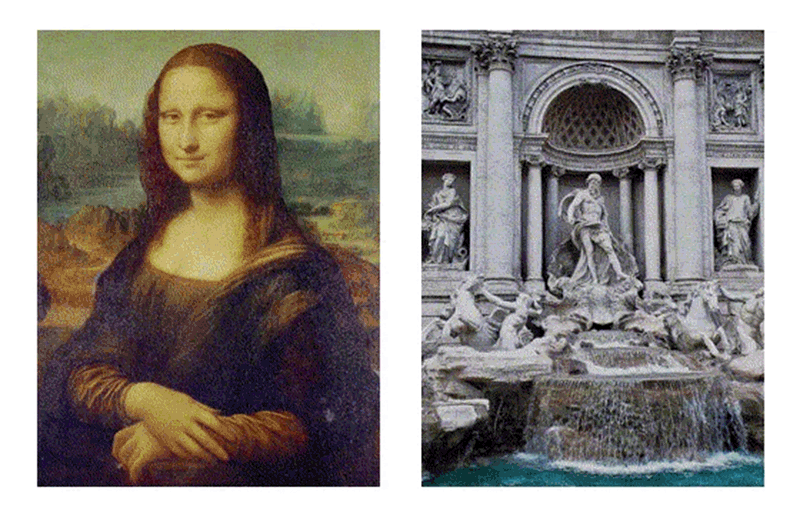 Source: Facebook
February 2020 Facebook updates
Facebook's "Clear History" tool now available globally
It's been in test markets for a while, but the Clear History option is now available to Facebook users worldwide. When prompted to do a Privacy Check-Up, you'll have the opportunity to clear your entire off-Facebook activity.
This is finally a chance to see all of the data Facebook has stored and tracked regarding your other internet activity, and delete it from their servers if you so choose.
Source: Facebook
"One Time Notification" API available for Facebook Messenger
To protect Facebook users from spam, Businesses Pages are only given 24 hours to respond to messages. Messaging individuals outside of that isn't allowed (unless you're using ad campaigns).
But a new One Time Notification API is the exception to the rule. Users can opt in to enable one-off notifications via Messenger for relevant news—for example, product availability or being notified about a future sale.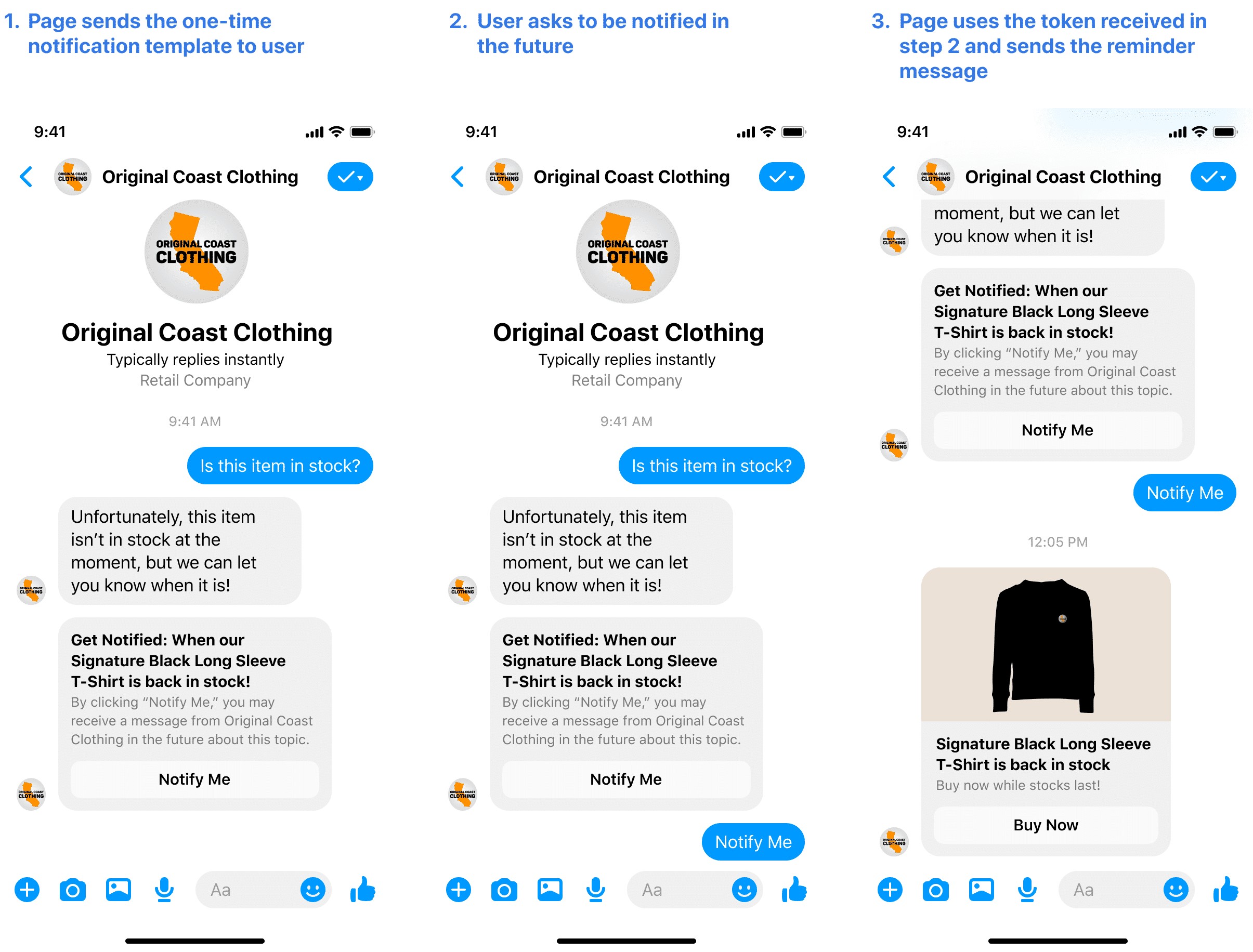 Source: Facebook
Facebook teams up with Reuters for expanded fact-checking services
In an effort to curb misinformation and propaganda that has run rampantly on the social media site the past few years, Facebook is partnering with Reuters for expanded fact-checking efforts.
The news organization will help Facebook detect and correct false stories as they're posted so that users can more easily identify biased or fake sources.
Learn more about Facebook's third-party fact-checking program here.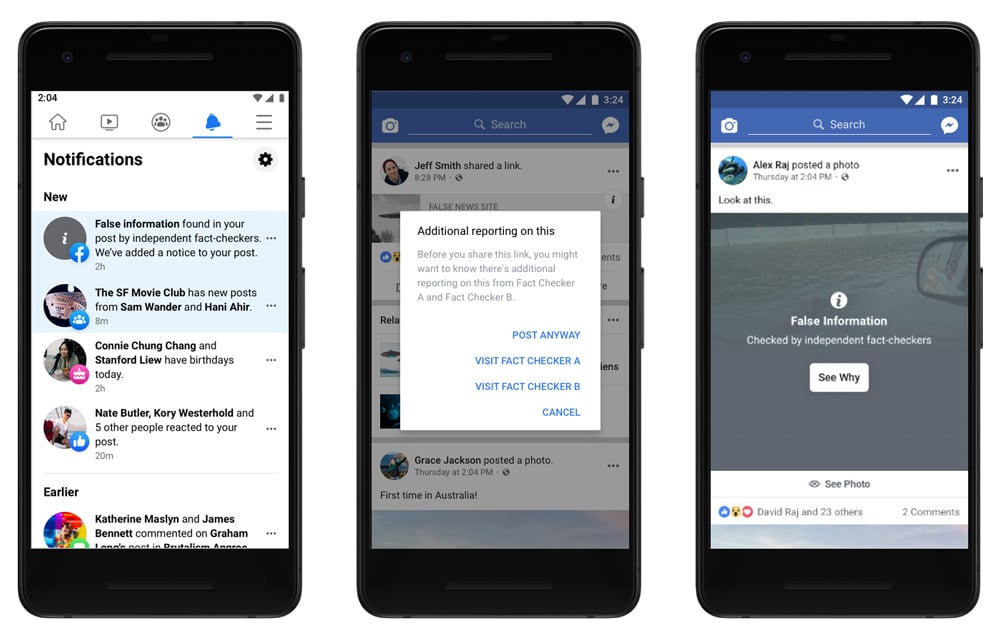 Source: Facebook
Creator Studio mobile app released
The mobile tool is designed to help manage Pages on the go, offering the same features as the browser-supported Creator Studio in an app format.
Via a simplified mobile dashboard, users can upload and publish content, and engage with audiences.
You've got the option to check your insights and analytics on the go with this new tool, too.
Download for Android here or iOS.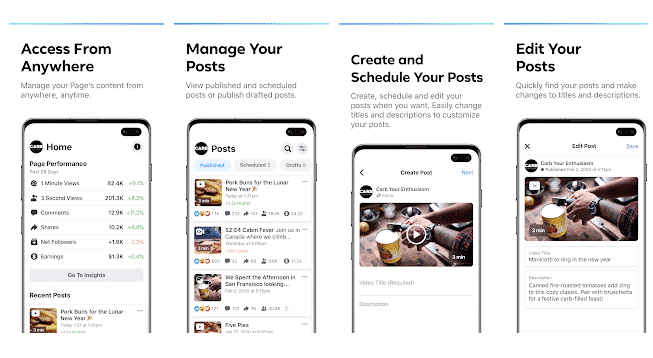 Source: Google Play store
January 2020 Facebook updates
Political ad policy update
The amount of politics and social issues popping up on Facebook and Instagram can frankly get exhausting, and Facebook obviously knows this, because they've recently added a control to the Ad Preferences settings so users can opt to see fewer ads with political content.
Page Management History now available
For Pages that are managed by multiple people, the new Page Management History tool may be helpful.
It's a brand new feature that shows every action ever made on your Page, who made them, and when… perfect for tracing back both errors or smart moves to the source.


Source: Facebook
Now that you're familiar with Facebook updates, try using Hootsuite to manage your brand's Facebook presence. From a single dashboard, you can schedule posts, share videos, engage your audience, and measure the impact of your efforts. Try it free today.
The post The Top Facebook Updates You Need to Know: August 2020 appeared first on Social Media Marketing & Management Dashboard.