Social has earned a well-established seat at the marketing table. However, executives often underestimate social's broader value to business. As organizations look to rebuild in a post-pandemic world, it's essential to tap into social media's growing economic and cultural power.
In our Social Transformation Report , we partnered with Altimeter Group to survey 2,162 marketers and conduct in-depth interviews with leading brands to uncover the value organizations find when they invest in social. We got to the heart of three critical areas, which we'll share in this post.
Download the full Social Transformation Report to find out how 2,162 marketers are using social media in their organizations in the wake of COVID-19.
3 unique ways social creates value for organizations
We found that sophisticated organizations use social media to deepen relationships, increase value and efficiency, and become a catalyst for culture shifts.
1. Social media's relationship-building power extends beyond customers
In 2020, we've seen how crucial it is for brands to use social media as a way to protect and strengthen relationships. Social now plays an integral role in developing relationships not just with customers, but also employees, partners, and other stakeholders.
Our study shows that 'mature organizations'—those with robust social media strategies according to Hootsuite's Social Maturity Assessment—are using social to build relationships beyond customers.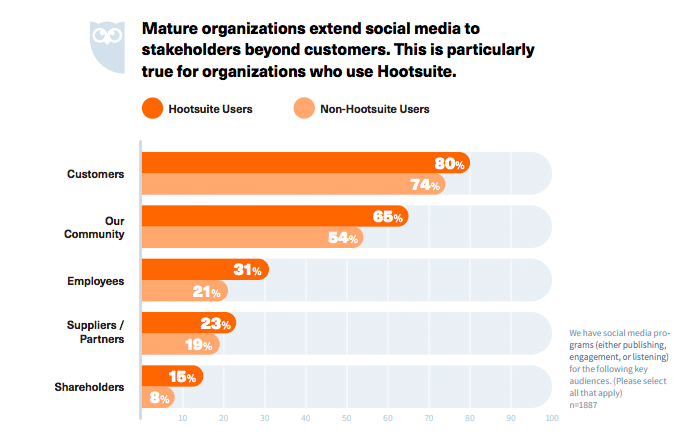 While 75% of businesses focus on customers as a key audience on social, mature organizations have expanded their strategy. They're nearly twice as likely to also connect with communities, employees, and partners.
By investing in a more diverse relationship-building model, mature organizations experience a direct impact on sales and employee alignment. Nearly 70% see significant overall success by focusing on relationships across the business.

For leading service operations brands like Sodexo, building relationships both inside and outside the business is an essential part of their social media strategy. "We take a 360-degree approach to our communications," explained Kim Beddard-Fontaine, SVP of digital and employee communications at Sodexo. "There isn't a wall between internal and external."
Key actions to expand relationships:
Focus on sustained engagement. Relationships develop with sustained engagements that lead to conversations across multiple channels. In our guide for marketers, we discuss key steps you should take to increase engagement and boost your impact.
Make social listening part of your strategy. Through social listening you can get real-time insights into shifting trends, consumer sentiment, competitive intelligence, and risks to brand reputation. Make sure that you monitor across all your core audience segments (incl. customers, employees, partners, investors, and the community).
Integrate cross-channel data. Create profiles or personas for your core audience segments based on data from various marketing channels. Once you understand how, where, and when to engage, you can help your audience achieve their goals through strong value propositions and clearly defined actions.
2. Social's triple threat (easy, efficient, effective) impacts more than marketing
Social media's ability to reach wide audiences with content in real-time—combined with its ability to quickly laser-target segmented audiences—make it an incredibly effective media channel.
In our study, 72% of respondents reported that social media's efficiency was so beneficial to their business that it even helped them improve the efficiency of their other media programs. For example, Mapfre, a global insurance company, uses social analytics to better understand what customers are thinking about. This allows Mapfre to target and personalize their marketing campaigns across all their digital channels. In some countries, the only media Mapfre buys is on social media because it's so inexpensive for its targeting capabilities.
Download the full Social Transformation Report to find out how 2,162 marketers are using social media in their organizations in the wake of COVID-19.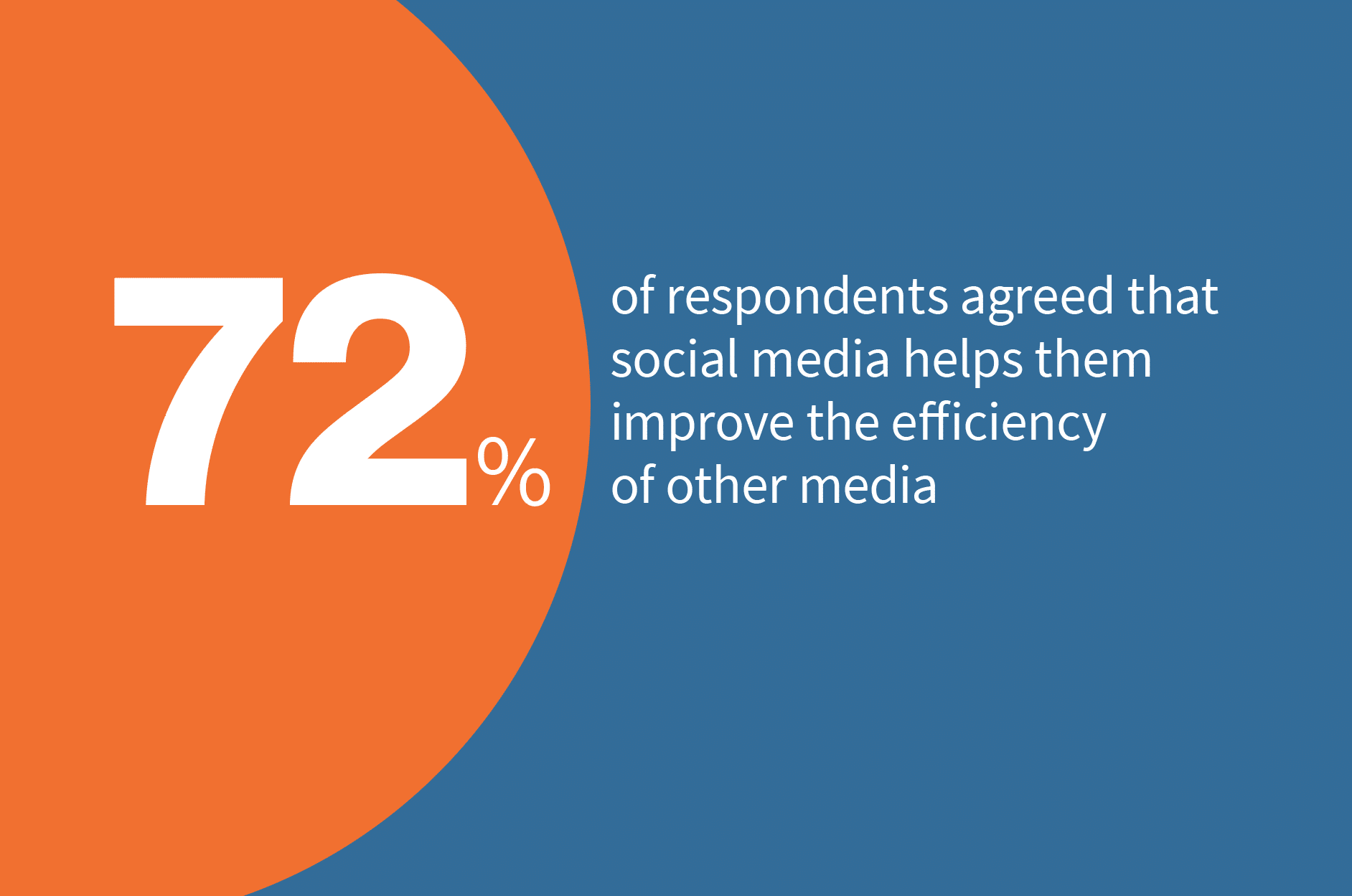 And while social media's role in customer engagement is more established, mature organizations are now also using social media to achieve broad cross-organizational benefits. Programs like employee advocacy create greater value in brand health and internal engagement, along with efficiency in areas ranging from strategy to sales.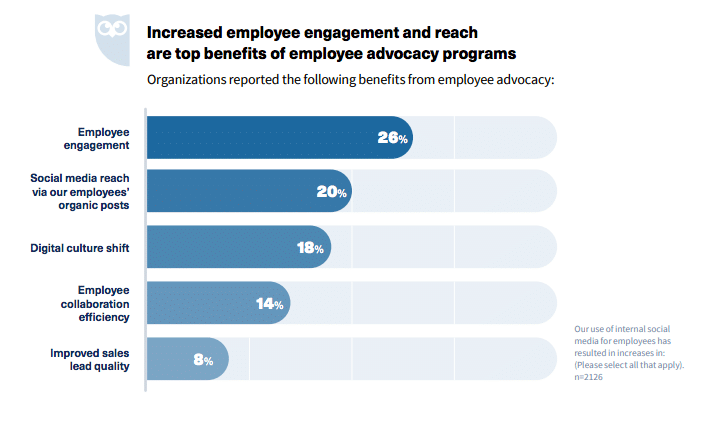 The benefits of employee programs have become even more apparent during COVID-19. Ochsner Health System's advocacy program—which includes 300 ambassadors—became an essential part of their communications strategy at the outset of the pandemic. They recently promoted a "COVID Hero Diaries" series along with a video featuring the CEO announcing free childcare for health care providers. "These are stories that they're proud of," says Alexandra Gaudin, senior digital content specialist at Ochsner Health. "The stories resonate with our brand ambassadors, who are proud to work for a company that is doing that initiative."
Key steps to drive operational efficiency and value:
Integrate your efforts with other channels. An integrated customer engagement approach between social media and other digital channels leads to a higher level of confidence in social ROI. Work together with established teams such as paid media, email marketing, and website optimization to build out more sophisticated digital programs.
Measure success in context. Social measurement can't happen in a silo. Attributing sales outcomes requires sophisticated tracking techniques and understanding where social media adds the most value in the sales funnel. It's essential to collaborate cross-departmentally to understand social's far-reaching impact on customer buying decisions.
Plan for the unknowns to mitigate disruption. The COVID-19 pandemic was a wake-up call for many organizations, particularly those less invested and mature in social media practices. To reduce risk, develop a game plan for disruption that includes social media response as part of your broader business continuity planning.
3. Social shifts culture, and culture transforms business
Sophisticated organizations understand that social media can help build the cultural foundation that is necessary for digital transformation within the business.
Not surprisingly, organizations with mature social programs are much more likely to have broad social adoption across the organization.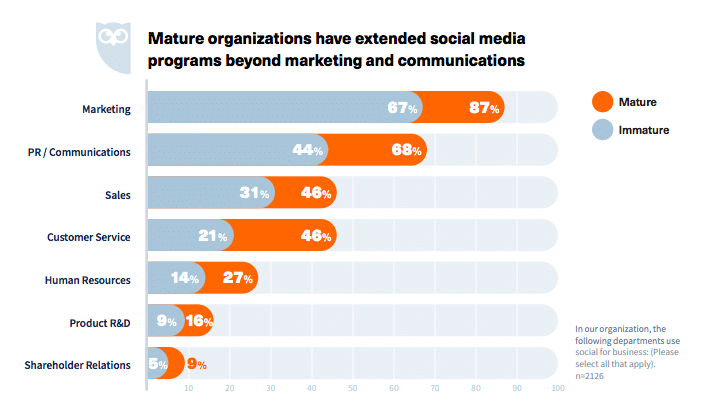 Broad adoption of social media prepares organizations for the multifaceted approach needed for digital transformation. Companies should leverage steering committees, working groups, and employee engagement programs already in place to better support internal changes within the organization. Around 66% of respondents agree that their social programs have helped transform the business.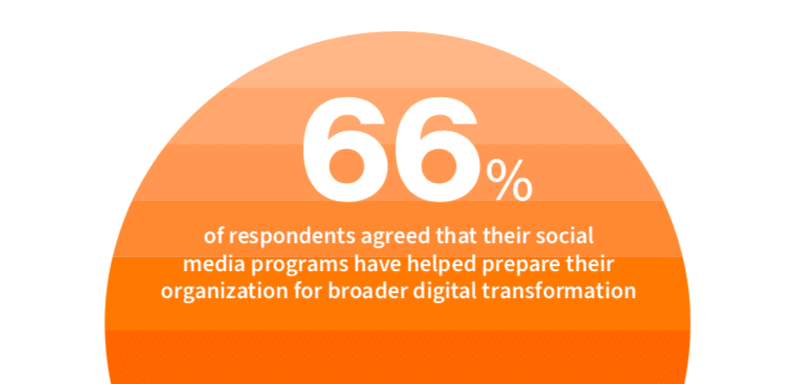 In order to truly see transformational change, organizations need to invest in broad social adoption at every level of the organization—and get buy-in from executives. Executive support can have a major impact on a company's ability to integrate social across the business.
Several interviewees shared that executives saw the power of social media once they began participating in it themselves. For example, Georgia State University's social team got early buy-in from the president and deans by setting them up with social accounts and showing them how to increase engagement among their peers. Once director-level employees understood the importance of social influence, they started bringing the social team into more strategic meetings. Terry Coniglio, director of strategy at Georgia State University, recalled, "The intangible thing that you can't measure is the trust that has been built with our department."
Key actions to shift digital culture:
Work from the inside-out. Effective employee advocacy programs help employees feel more connected to their company's mission. Training is key to build confidence and support employees as their engagement and use of advocacy mature.
Make social accessible. Scaling digital transformation requires broad adoption, so making social media accessible to everyone from salespeople to executives will increase their participation and create an internal culture shift. It's important to find a social management platform that is easy to use for any level of employee.
Invest in social experts. Social media teams that have successfully launched social media programs understand the skill sets needed to educate employees. By investing in resources that allow internal experts to empower your organization on social, you'll see a return on your social investment faster. Utilize educational resources to keep up training on a regular basis.
Read the full report and learn how Hootsuite can become your trusted partner in digital transformation.
The post What's Social's True Value to Business? We Asked 2,162 Marketers. appeared first on Social Media Marketing & Management Dashboard.