Ready for a deep-dive into Pinterest demographics? If you want your next Pinterest marketing campaign to be a success, you're in the right place.
Sure, Pinterest may not boast the same user hours as Facebook or share TikTok's hype. Still, the platform remains a hidden gem for marketers targeting certain audience demographics. If you're looking for higher-spending millennials, for example, try Pinterest.
Before you create your next campaign, take a look at our breakdown of Pinterest demographics to help you reach your target audience.
General Pinterest audience demographics
First, let's check out how Pinterest stacks up against other social media platforms.
Pinterest recognized that their 2020 surge in active users was likely down to shoppers staying home. When lockdown restrictions eased up, some of their newer users chose other activities instead.
As of January 2022, 433 million people use Pinterest every month. The platform's 3.1% growth rate is pretty consistent with other social media platforms like Instagram (3.7%). 433 million users are nothing to sniff at either.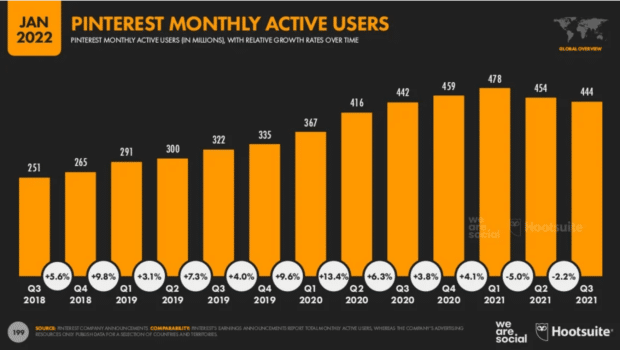 Source: Hootsuite 2022 Digital Trend Report
2. Nearly 50% of Pinterest users are classified as "light" users, logging onto the platform weekly or monthly instead of daily. And only 7.3% are considered "heavy" users.
Facebook users spend close to 20 hours each month idly scrolling feeds and binging content. Pinterest users, though, usually come to the platform with a purpose.
Most people check in when they want to research a type of product or resource. This is likely thanks to the platform's focus on educational content over pure entertainment.
As of January 2022, Pinterest ranks as the 14th largest platform in terms of global active users.
Pinterest's global audience beats Twitter and Reddit. Still, it ranks below popular social networks like Facebook, Instagram, TikTok, and Snapchat.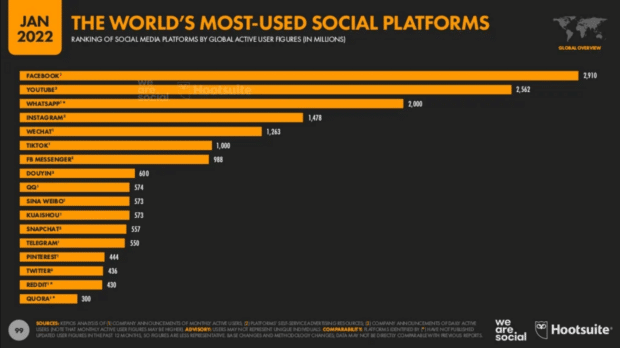 Source: Hootsuite 2022 Digital Trend Report
That means as a social platform, Pinterest sits between Instagram (40%) and LinkedIn (28%).
It also puts Pinterest as the fourth most used social media platform. Not bad, considering the number of social media platforms out there.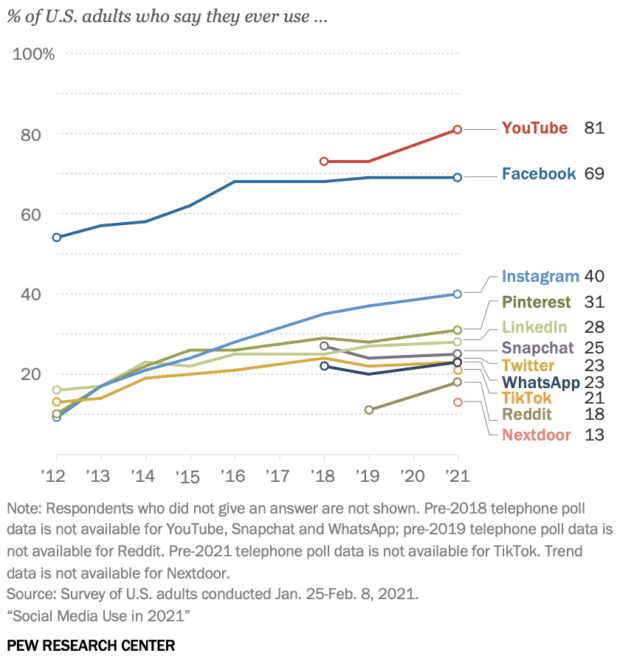 Source: Pew Research Center
5. Marketers can reach a potential audience of 225.7 million people using Pinterest ads.
Running ad campaigns on Pinterest lets you reach potentially huge global audiences. The key is to know how and where to target your ad campaigns.
Pinterest location demographics
Knowing where Pinterest users are based can help you better engage with your audience and increase your Pinterest follower count.
Over 86 million members of Pinterest's ad audience are based in the U.S. This means Pinterest ads reach 30.6% of the American population aged 13 or over.
In second place is Brazil at 27 million. There, Pinterest ads reach 15.2% of the 13+ age group.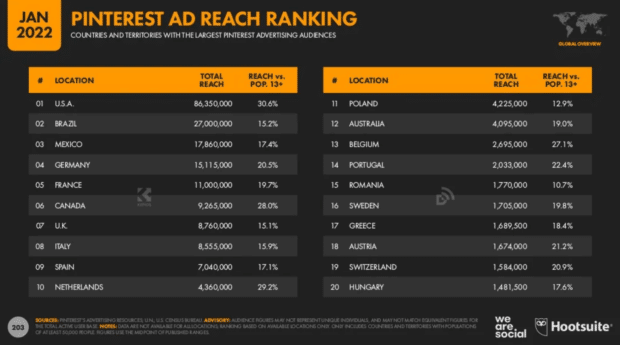 Source: Hootsuite 2022 Digital Trend Report
This compares to 32% who live in suburban areas and 30% in urban areas, according to Pew Research's 2021 survey of social media users.
This statistic may be explained by the fact that many rural users on Pinterest may not have much choice when it comes to brick-and-mortar stores. So they're turning to Pinterest to fuel their next purchase ideas.
8. Quarter-on-quarter change in Pinterest ad reach is down by 3.2% or 7.3 million people.
No surprises here — this is down to Pinterest's drop in active users during 2021.
It's not all bad news, though. Year on year, the change in ad reach is up by 12.4%, or an increase of 25 million people.
Pinterest age demographics
These age-related Pinterest stats can help you better understand the platform's largest audiences.
Sure, Pinterest is beginning to appeal to a younger audience. Still, the millennial generation remains the platform's median age.
This means good news for marketers targeting millennials, who generally have more disposable income.
10. 38% of Pinterest users are between the ages of 50 and 65, representing the largest age demographic on the platform.
While the platform is associated with millennials, Pinterest's largest user group is actually older.
Unlike other social networks, though, there's less of a generational divide on Pinterest. There's a near-even split between Generation X, Gen Z, and Millennials.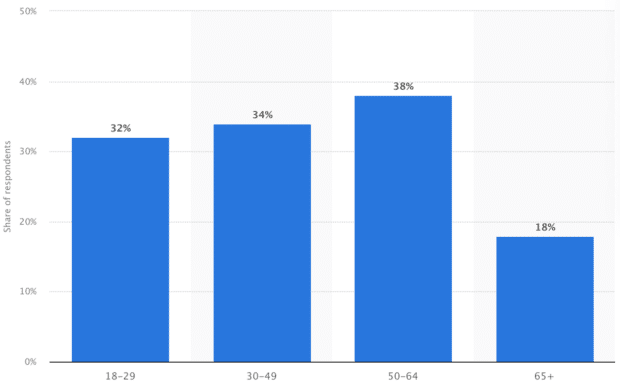 Source: Statista
Pinterest is most associated with millennials, and it looks like they're continuing to flock to the app.
If you haven't yet used Pinterest to target your millennial audience, it's never too late to start. The key is to be creative in your targeted campaigns to stand out from the noise.
12. There are close to 21 million Gen Z users on Pinterest — and that number is still growing.
There are currently almost 21 million Gen Z Pinterest users. Still, Gen Z Pinterest usage is on track to rise to 26 million within three years.
If you're not already targeting Gen Z with your Pinterest ads, get on it before other marketers beat you there!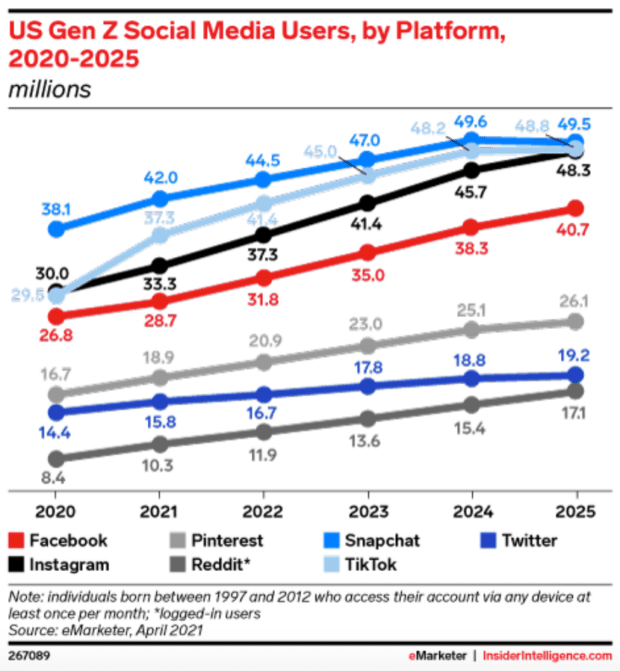 Source: eMarketer
Pinterest gender demographics
Browse these gender demographics to get a better idea of who's likely to see your Pinterest campaigns.
It's no secret that women have always outranked men on Pinterest.
As of January 2022, women represent 76.7% of Pinterest users, while men represent just 15.3% of the platform's users. But…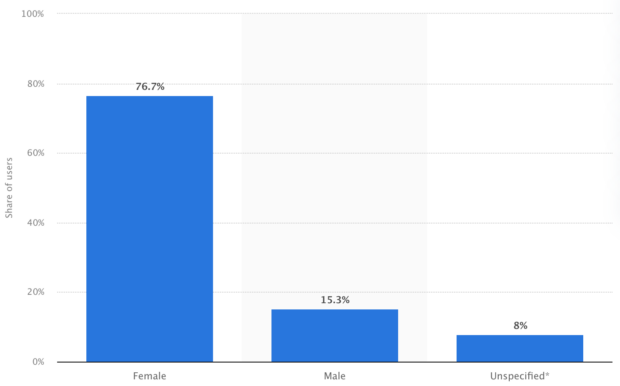 Source: Statista
Despite Pinterest's popularity with women, men are quickly catching up.
According to Pinterest's latest audience statistics, men are one of the platform's largest growing demographics.
Bonus: Download a free guide that teaches you how to make money on Pinterest in six easy steps using the tools you already have.
15. 80% of men who use Pinterest say that shopping on the platform leads them to "something unexpected that surprises and delights them."
Traditionally, men are considered "power shoppers." They want to find the best thing possible without wasting any time. Pinterest can help them do just that.
According to a Pinterest survey, men use the platform to discover new products — and they're enjoying the process.
If you want to reach American moms, you need to start creating Pinterest campaigns — fact.
Pinterest is all about providing inspiration for later purchases. This makes it a great platform for building awareness.
Women aged 25-34 make up 29.1% of Pinterest's ad audience. Men in the same age group account for 6.4%.
The demographics with the lowest ad reach are men and women aged 65+.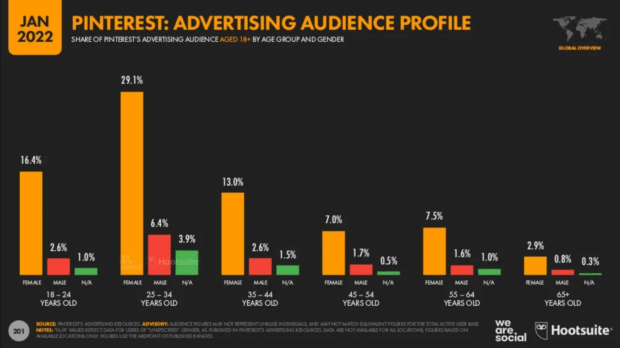 Pinterest income demographics
If you want to promote products on Pinterest, you need to know what your audience can afford.
18. 45% of social users in the U.S. with a household income of over $100K are on Pinterest.
Pinterest users are high-earners, and the platform has made no secret of this. In fact, they often publicize it. This is helpful intel for advertisers and marketers looking to target high-earners in the U.S.
And a quick browse will show you that Pinterest is a popular hub of high-end product content. Think beauty products, health and wellness items, and home furnishings.
19. Shoppers on Pinterest spend an average of 80% more than people on other platforms and have a 40% bigger basket size.
Pinterest users are generally bigger spenders and like to use the platform for making purchases.
Not all Pinterest users are in the top income bracket. There's a large number of users making less than $30,000.
In fact, 54% of the platform's active users take home less than $50,000 in annual household income.
Even if you're not marketing to high-income earners, Pinterest could still be popular with your target audience. The key is to test different campaign strategies and see what sticks.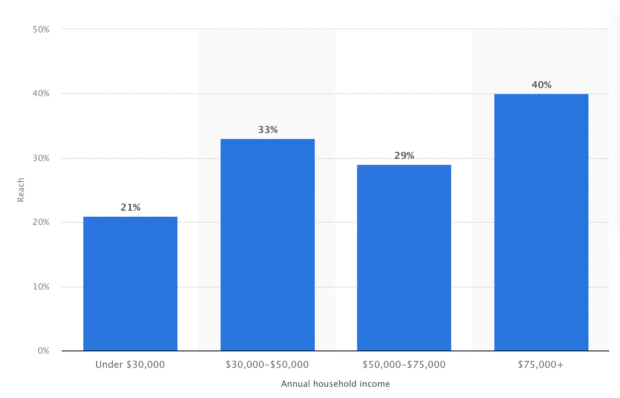 Source: Statista
Pinterest general behavior demographics
Ok, so we know who is using the platform. But how are they using it?
21. 8 in 10 Pinterest users say the social network makes them feel positive.
More than other platforms, Pinterest seems to care about creating a positive environment. One reason users may feel this way? Pinterest banned political ads in 2018.
Pinterest also moderates its content to keep negativity away from the platform.
In their "It Pays to Be Positive" report, Pinterest writes, "Here's the thing: Anger and divisiveness may encourage people to scroll (and troll!). But they don't get people to buy."
22. 85% of people use Pinterest on mobile.
The number of mobile users fluctuates every year, but it's been above 80% since 2018.
That means optimizing pins for vertically-oriented smartphone screens isn't optional. It's mandatory.
That makes Instagram the social media platform with the largest audience overlap with Pinterest. Facebook follows closely behind at 82.7%, then YouTube at 79.8%.
The platform with the least audience overlap with Pinterest is Reddit — only 23.8% of Pinterest users are also Reddit users.
24. 85% of Pinners use the platform to plan new projects.
Pinterest users want to see educational content. So when you're planning your campaigns, think about tutorials, infographics and how-to posts.
People aren't on Pinterest to doom-scroll or procrastinate. They want to engage with new ideas and feel inspired.
25. 70% of Pinterest users say they use the platform to find new products, ideas or services they can trust.
Remember when we mentioned Pinterest's positive reputation? It looks like it pays off — people trust the platform as a source of inspiration.
For marketers using Pinterest for business, this means focusing on content that educates, inspires, and nurtures. Brands need to be conscious of not being too pushy — people are looking for content that sparks trust.
Selling on Pinterest might mean publishing how-to content that showcases products in action.
Pinterest shopper behavior demographics
More so than on many other platforms, Pinterest users are open to making purchases. Here's how shoppers usually behave on Pinterest.
26. Over 40% of Pinterest users want to feel inspired during the shopping experience.
People come to Pinterest for guidance. They're open to new ideas and want to enjoy the full Pinterest shopping journey, from product discovery to purchase.
Brands can tap into these preferences by creating engaging Pinterest content that educates and nurtures users.
27. Weekly Pinners are 7x more likely to say Pinterest is the most influential platform in their purchase journey.
Pinterest users love to use the platform for shopping. Active users consider Pinterest an essential shopping resource.
Customers might use Instagram and Facebook to look at your brand, but Pinterest is where they go to make a decision.
28. 80% of weekly Pinterest users are on the platform to discover new brands or products.
Since Pinterest is such a trusted source, it makes sense that people log on to discover new products or brands.
If you get your Pinterest content strategy right, you can get your product in front of a highly engaged audience. Even if they're unfamiliar with your brand.
Most people using Pinterest are in the mood to purchase. According to the platform's Feed Optimization Playbook, Pinterest users are 40% more likely to say they love shopping and 75% more likely to say they're always shopping.
Manage your Pinterest presence alongside your other social media channels using Hootsuite. From a single dashboard, you can compose, schedule, and publish Pins, create new boards, Pin to multiple boards at once, and run all your other social media profiles. Try it free today.
Schedule Pins and track their performance alongside your other social networks—all in the same easy-to-use dashboard.
The post 29 Pinterest Demographics for Social Media Marketers [2022] appeared first on Social Media Marketing & Management Dashboard.